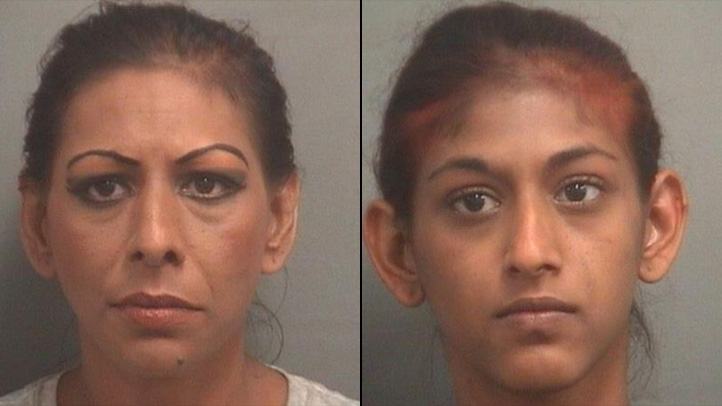 A Boynton Beach mother and daughter are facing prostitution charges after police say they offered daily 2-for-1 sex deals out of their home through ads on Backpage.com.

Ramona Ramoutar, 43, and Danielle Sinanan, 24, were arrested Tuesday on one count each of solicitation of prostitution, Boynton Beach Police said. They were being held on $2,000 bond each Thursday and it was unknown whether they have attorneys.

According to police, the traffic unit began investigating the mother and daughter last month after receiving complaints from neighbors of illegal activity going on in their home.
Dead Shark Mysteriously Ends Up on New York Subway

The investigation revealed that Ramoutar and Sinanan posted photos of themselves and advertised specials under the adult entertainment escorts section of Backpage.com, offering to "rock your world" as "Jazmine" and "Angel," police said.

As officers watched their apartment, they saw several "John's" come and go, and stopped one as he left on July 18. The man told officers he paid $100 to have sex with Ramoutar and Sinanan, police said.
Woman Keeps 25 Dead Cats in Freezer

On July 24, an undercover officer called the phone number on the Backpage.com ad and arranged to meet Ramoutar and Sinanan the next day. When he went to their apartment, he was offered the 2-for-1 special for $150, police said.

The pair were arrested on solicitation of prostitution, as well as possession of drug paraphernalia after officers found a glass pipe and needles in the apartment, police said.

When officers learned the mother-daughter duo were still having sex for money after the arrests, they set up another undercover meeting at their apartment on Tuesday, police said.
VIDEO: Cardboard Cutout of Cop Reduces Bike Theft Rate

A deal was made but Ramoutar and Sinanan backed out just before the officer arrived, police said. The women admitted they were going to have sex for money and were arrested again and booked into the Palm Beach County Jail.

"This investigation is an excellent example of the great teamwork and hard work that goes on everyday at the Boynton Beach Police Department, and how we attempt to be as responsive to the communities concerns as possible," Sgt. Richard McNevin said in a statement. "We are aware of other people using Backpage.com as a way to promote their illegal activity, and we will be looking to arrest them as well."
More Local Stories: