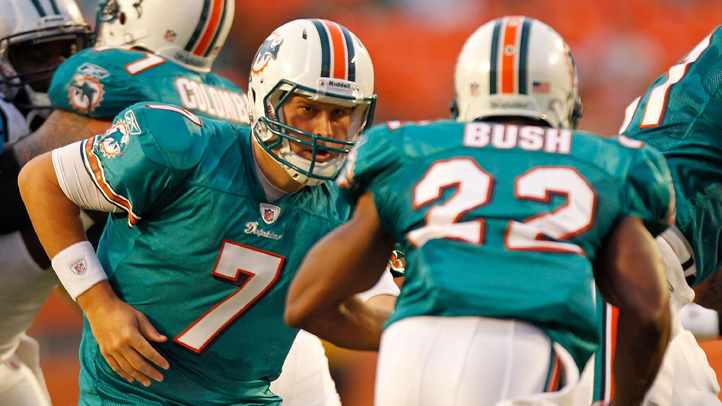 With two preseason games in the books, the Miami Dolphins hit the home stretch Saturday night at home against the Tampa Bay Buccaneers.
Head coach Tony Sparano told the Sun-Sentinel Thursday, "I think we're one of the good teams in this division, and I think anybody that doesn't believe that is probably going to make a big mistake."

So far, it's been easy going for Miami in the preseason. The first-team offense and defense looked downright competent last week against Carolina, jumping to a 17-0 halftime lead before yielding to the backups.
But that was against a team that went 2-14 last year and started a rookie quarterback. Tampa Bay went 10-6 in 2010 and are a trendy sleeper pick for the NFC Super Bowl representative.

Here are five questions to ponder ahead of Saturday:

1. Can Vontae Davis walk the walk? Davis told the Miami Herald Thursday he and Sean Smith are "the best [cornerback] tandem in the league." His proof? "Because I feel that way, and I know it." The rest of us will use numbers to decide whether to agree. Tampa Bay receiver Mike Williams will pose a tough task, having caught 11 touchdowns in 2010.

2. Will Tampa's defense rebound from a weak showing last week? The Patriots trounced the Bucs 31-14, with Tom Brady picking apart the Tampa secondary for 118 yards and two touchdowns in one half of play. Will Chad Henne be able to take similar advantage against a Buccaneer secondary with Aqib Talib returning to action?

3. Tight Kellen Winslow also gets a lot of passes thrown his way, can Karlos Dansby and Kevin Burnett keep him covered? Burnett has earned a lot of praise in training camp, but Winslow might be the best tight end the Dolphins will have faced in the preseason.

4. Will Larry Johnson get a chance to show he still has something left in the tank? Miami picked him up for tough short-yardage situations. If they get the ball inside the five-yard line, he will see some action. Johnson gained 2 yards on 5 carries in 2010. He'll need to up his average by a thousand percent or so if he wants to stay on the roster.

5. Will another receiver stake their claim to a starting job opposite Brandon Marshall? Clyde Gates, Brian Hartline and Davone Bess all have a shot to start, but they are running out of preseason games to impress Sparano. Bess has the statistical advantage so far.

Kickoff is Saturday night at 7:30 p.m.