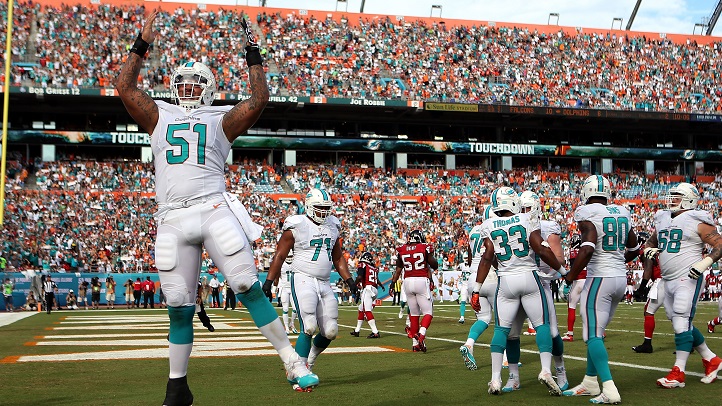 The Miami Dolphins will try to reverse their freefall on Sunday when they host the San Diego Chargers. After a thrilling 3-0 start, the Dolphins have lost 5 of their last 6 games and need to win at least 5 of their last 7 games if they want a realistic shot at making the playoffs.
Miami is one of five AFC teams sitting at 4-5 and a game out of the sixth playoff spot, as is San Diego. "There were a lot of teams in a very similar position that we are in right now," Dolphins coach Joe Philbin said this week.
"November and December decide a lot. The teams that have the great character, the great chemistry, find a way to fight through the obstacles and adversity, and perform at a high level this time of the year. That's what we have to do."
When the Dolphins have the ball: The Dolphins are 30th in the NFL in total offense, and they hit their nadir last week against Tampa Bay, rushing for a franchise-low 2 yards. It was their third game of the season in which they rushed for 22 yards or less.
Even more concerning for Miami has been the play of Mike Wallace. The $60 million receiver is on pace to set career lows for receiving yards, touchdowns, and yards per catch. Last week he caught 4 passes for 15 yards.
Still without Jonathan Martin and Richie Incognito, Miami's patchwork offensive line is up against a Chargers defense that is 30th in the NFL in opponent's yards per rush. The Chargers are equally bad against the pass, giving up more yards in the air than all but 3 NFL teams.
When the Chargers have the ball: A year after injuries limited him to 9 starts, San Diego QB Philip Rivers is in the top five in the NFL in passer rating, yards per game, and touchdowns. The Chargers are fourth in the NFL in passing yards.
Rivers' favorite targets are TE Antonio Gates (52 catches, 612 yards) and rookie WR Keenan Allen (38 catches, 568 yards). RB Danny Woodhead has 53 catches out of the backfield for 408 yards.
The Dolphins gave up only 264 yards to Tampa last week, but wilted in the fourth quarter when the Bucs were able to march with ease on a 9-play, 80-yard touchdown drive to take the lead.
Who has the edge? The Dolphins cannot seem to do anything right on offense, while the defense tends to get burned by pass-catching running backs and athletic tight ends. Gates and Woodhead could be in for a big afternoon on Sunday.
The pick: Chargers 21-Dolphins 10
Details: San Diego Chargers (4-5) at Miami Dolphins (4-5)
TV: CBS, 4:05pm ET, Greg Gumbel, Dan Dierdorf
Line: Chargers by 2.5
Previously: San Diego won 26-16 in 2011
Copyright AP - Associated Press