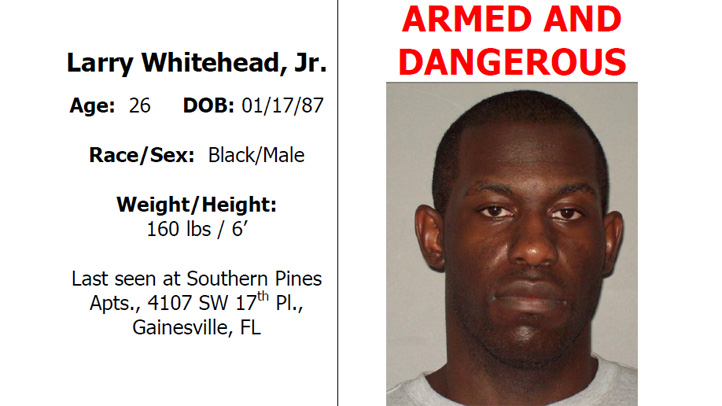 Gainesville Police are asking for the public's help in finding a murder suspect who may have fled to Miami.

Larry Whitehead Jr., 26, is a suspect in the Sunday evening shooting death of 37-year-old Samuel Hamilton, Gainesville Police said Friday.

Police say Whitehead forced his way into an apartment at 4125 Southwest 17th Place where he and Hamilton got into a verbal argument that turned deadly.

Whitehead fled the area, and Hamilton was later found with a gunshot wound to his head, police said. The gun used in the murder hasn't been recovered.

Police describe Whitehead as a black male, 6-foot-0 and 160 pounds. He has an extensive criminal history and should be considered armed and extremely dangerous, police said.

Gainesville Police said they have received unverified information that Whitehead may have fled to the Miami area. Tips that lead to an arrest may be eligible for a cash reward, and anyone with information is asked to call Gainesville Police at 352-393-7615.
More Local Stories: