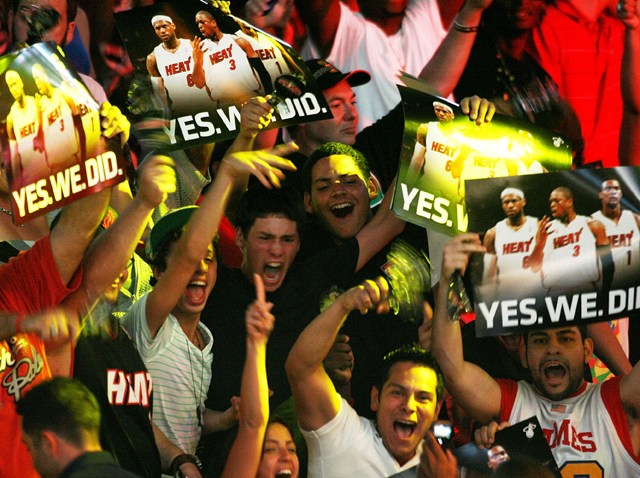 So much for breaking the Guinness Book of World Records for the biggest party ever.
Miami's extravagant plans to really welcome the new look Miami Heat on opening night have been scaled back a bit, but officials say it's still game on - or at least that's what a new logo reads.
With the city strapped for cash, officials have partnered with downtown restaurants to offer some sweet Heat deals on Oct. 29, when Dwyane Wade, LeBron James and Chris Bosh face off against the Orlando Magic at the AmericanAirlines Arena.
For those who didn't have the hottest ticket in town, the city wanted to throw a street festival that would lock downtown into a basketball frenzy. But "Game On" will still have a festive atmosphere, officials said.
"There will be a sense of enthusiasm and excitement. Whether you have a ticket or you don't, you can still be really steps away from the arena and be part of the action," said Alisha Marks from Miami's Downtown Development Authority.
All fans have to do is look for the "Game On" logo on signs and stickers to find restaurants, bars, hotels and other downtown businesses offering discounted deals.
And for those who want to watch the game, officials are working to have it broadcast on a huge screen at Bayside. If things work out, all 41 home games will be projected on a big screen at Bayside, officials said.
The Brickell Irish Pub is one of the establishments the Downtown Development Authority recruited to trim their prices.
"We are offering great deals on all our beer and our wing specials and we're trying to keep everyone fed and happy and that's the basketball special," manager Aimee Bontrager said.
Restaurants across downtown are trying to make the Heat experience not just for the independently wealthy.
"Almost all of them are offering deals to get people to come in before the game, during the game and after the game," Marks said.
And for out of town guests who want to be a part of the opening game seen around the world, downtown hotels have come up with some pretty creative packages.
The newly opened Tempo Miami Hotel is one of the Game On hotels and is located right across the street form the arena.
"We have pick a player room packages," said Mark Jeffrey from Tempo Miami Hotel. "If you want the D-Wade package it is a room only. If you want more of the Chris Bosh it includes dinner for two."
For more information on the Miami Heat party, stay tuned to NBCMiami and head over to www.miamidda.com.