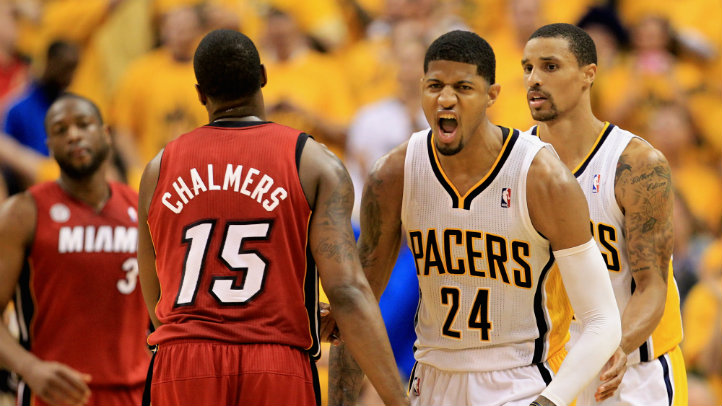 There will be a Game 7 of the Eastern Conference Finals on Monday night in Miami. The Indiana Pacers beat the Miami Heat 91-77 Saturday night in Game 6, evening up the series at 3 games each.
LeBron James scored 29 points with 7 rebounds and 6 assists, but Dwyane Wade and Chris Bosh could only muster 15 points between them on 4 of 19 shooting. It was the lowest combined point total for Wade and Bosh since they became teammates.
The Heat shot 36% from the field, their worst performance of the season. It was also the first time all season Miami made 10 three-pointers and lost.
"They just flat-out beat us in every facet of the game. They just outclassed us in that (third) quarter," Miami coach Erik Spoelstra said.
Roy Hibbert continued his dominance, scoring 24 points with 11 rebounds. The Pacers had three players with 10 or more rebounds, and pulled in 14 offensive boards as a team.
The Heat were lucky to even be close to to the Pacers for parts of the first half. Miami shot 7 of 9 from three point range, and 9 of 34 from everywhere else. James led the Heat with 14 points, while Norris Cole contributed 9 points off the bench. Miami attempted just one free throw the entire half (on a technical foul), failing to get into the painted area enough to draw fouls.
Indiana shot only 40% from the floor, missing three dunks in the second quarter and more from only a few feet away from the rim. Roy Hibbert and Paul George each scored 13 points, but David West scored only one point of 0 of 7 shooting. Somehow the Heat entered halftime with a 40-39 lead.
Then the wheels fell off for Miami. Indiana took the lead on a 14-2 run to start the quarter, and their lead grew to as much as 17 points. The Heat shot 4 of 16 with 6 turnovers, while Indiana shot 13 of 17 and generally did whatever it wanted on offense. It was Miami's lowest scoring quarter of the season.
Shaq Gives Shout-out to Miami Beach PD and BSO
But Miami began mounting a comeback in the fourth quarter, opening the period on a 13-4 run. Mike Miller came off the bench to hit two three-pointers (giving him a grand total of three for the series), James began attacking the paint, and the Pacers began to stall on offense.
Miami made it a 72-68 game, then the Pacers went on a 9-0 run to extinguish any remaining hope Miami had at a comeback.
Paul George led the Pacers with 28 points. David West added 11 points and 14 rebounds, while George Hill scored 16 points.
Chris "Birdman" Andersen did not play after being suspended for one game by the league upon review of his fracas with Tyler Hansbrough during the first half of Game 5. Andersen was called for a flagrant 1 foul on Thursday, but \the league upgraded the foul to a flagrant 2 on Friday.
Game 7 will be played Monday night at 8:30, with coverage on TNT.