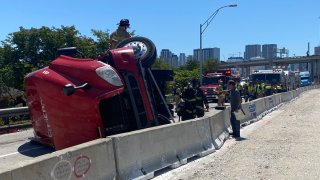 A rollover crash involving a tractor-trailer on an Interstate 95 ramp in Miami was causing heavy delays in the area Tuesday afternoon.
The crash happened on the northbound I-95 ramp exit off westbound 836.
No one was injured, but there were heavy delays in the area, Miami Fire Rescue officials said.
Crews were working to remove the tractor-trailer and clear traffic.