Police in Hollywood are searching for a man who they say struck a pregnant woman and killed her puppy.
Officers responded to a disturbance at around 11:30 p.m. on April 10 at 2600 N. 29th Avenue, the Hollywood Police Department said in a news release Tuesday.
Tyson Pierre Louis, 20, allegedly struck the woman in the face and threw her pit bull puppy on the pavement at a gas station, ultimately killing the animal. Louis then fled the scene.
The victim, who is 16 weeks pregnant, already had a restraining order against Louis, police said.
Louis is facing charges of aggravated battery of a pregnant female, animal abuse and cruelty, violating pretrial release conditions in a domestic violence case, and criminal mischief, according to an arrest affidavit.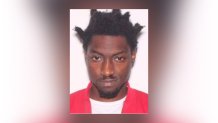 Anyone with information about this subject and his whereabouts is asked to contact the Hollywood Police Department at 954-764-4357 (HELP) or Crime Stoppers at 954-493-8477 (TIPS).