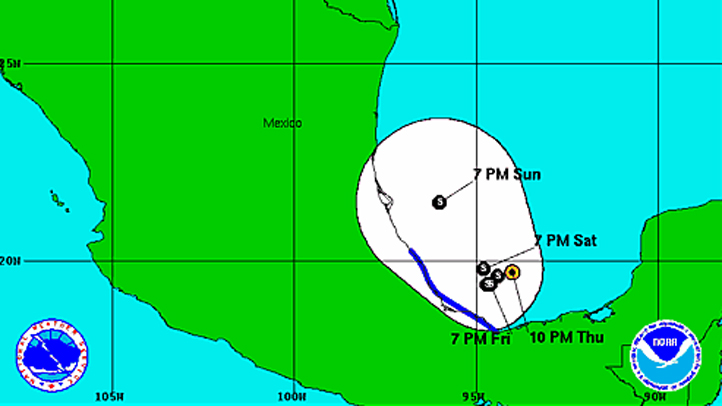 Tropical Depression 10 formed in the southern Gulf of Mexico Thursday and is expected to bring life-threatening flash floods and mudslides to parts of eastern Mexico, the National Hurricane Center in Miami said.
As of 11 p.m., the tropical depression had maximum sustained winds of 35 mph as it drifted west at 2 mph about 145 miles east-northeast of Veracruz, Mexico and about 240 miles east-southeast of Tuxpan, Mexico.
The depression, which is expected to become a tropical storm Friday, could bring 10 to 15 inches of rain over a large swath of eastern Mexico, with isolated amounts of 25 inches possible, the National Hurricane Center said.
A tropical storm warning was in effect for Coatzacoalcos to Barra de Nautla.
The storm was expected to slowly and erratically move west during the next couple of days, according to the NHC.
Meanwhile, Hurricane Humberto lost some strength Thursday night, with its maximum sustained winds dropping to 80 mph as it moved north-northwest over the eastern Atlantic, the NHC said.

As of 11 p.m., Humberto was moving north-northwest at 12 mph about 630 miles northwest of the Cape Verde Islands. There were no coastal watches or warnings in effect.
Humberto, which became the first hurricane of the 2013 season Wednesday, is expected to weaken further during the next 48 hours. It's expected to be downgraded to a tropical storm on Friday.

A turn toward the west-northwest is also expected over the next couple of days.
Forecasters are also tracking a third storm, Gabrielle. It was a tropical depression but regained tropical storm strength on Thursday.
As of 11 p.m., Gabrielle had maximum sustained winds of 40 mph as it headed north-northeast at 10 mph about 450 miles south-southeast of Nantucket, Mass. and about 690 miles south-southwest of Halifax, Nova Socita. No coastal watches or warnings were in effect.
Gabrielle is expected to weaken on Friday and dissipate by Friday night or early Saturday.
More Weather Content: