South Florida was placed in the official forecast cone of Hurricane Irma Monday as hurricane watches and warnings were in effect for islands in the Caribbean for the powerful Category 4 storm.
Florida Gov. Rick Scott declared a state of emergency for all 67 counties in the state, so that "state, federal and local governments are able to work together and make sure resources are dispersed to local communities as we get prepared for this storm."
"Hurricane Irma is a major and life-threatening storm and Florida must be prepared. Current forecast models have Florida in Irma's path – potentially impacting millions of Floridians," Scott said in a statement.
Early Tuesday, the National Hurricane Center in Miami said Irma reached 150-mph winds and posed a serious threat to the Leeward Islands, where it is expected to hit late Tuesday. The storm could bring storm surges of 6-9 feet and dump as much as 12 inches of rain as it moves through the Caribbean.
Irma was moving west at 13 mph Monday night, according to an advisory from the center. The hurricane was about 410 miles east of the Leeward Islands and less than 1,700 miles from South Florida.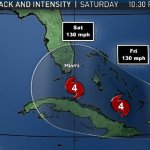 NHC officials said there is an increasing chance of seeing some impacts from Irma in the Florida Peninsula and the Florida Keys later this week and this weekend.
Residents in South Florida were urged to make sure their hurricane plans were in place, and many stores were already seeing empty water shelves and low amounts of other supplies Monday.
American Airlines has canceled nine flights to and from Miami ahead of the storm. The airline is also proactively waiving change fees for flights to and from some Caribbean destinations. Passengers may be eligible to change reservations if they bought a ticket by Sept. 3, are slated to travel between Sept. 5-8, can travel through Sept. 12 and don't change the destination. See the American Airlines website here for details.
"This hurricane has the potential to be a major event for the East Coast. It also has the potential to significantly strain FEMA and other governmental resources occurring so quickly on the heels of Harvey," Evan Myers, chief operating officer of AccuWeather, said in a statement.

The Antigua and Barbuda weather service said Irma was expected to bring heavy rains, rough surf and high winds, and the government closed schools Monday. Hurricane watches were posted for Antigua and Barbuda, Anguilla, Monserrat, St. Kitts and Nevis, St. Martin, Saba, St. Eustatius, St. Maarten, and St. Barts.
A hurricane warning was in effect for the U.S. Virgin Islands, the British Virgin Islands, Puerto Rico, Vieques, and Culebra. A tropical storm watch was in effect for Dominica while a tropical storm warning was in effect for Guadeloupe.
Long-range forecasts indicated Irma likely would curve to the northwest beginning late Monday and skirt to the north of the islands in the eastern Caribbean on a path that could potentially take it to the U.S. East Coast, but it was too early to make a definitive prediction.
Additional strengthening was expected over the next couple days and Irma is forecast to remain a powerful hurricane throughout the 5-day forecast period.
Antigua's prime minister, Gaston Browne, urged people to take preventative measures in case the storm should keep on its current arc, saying that should include cleaning drains and removing objects that could be sent flying by high winds. Workers began pruning trees and shrubs to reduce chances for branches to tear down power and phone lines.
"The passage of a hurricane is not a matter to be taken lightly, but we must not panic," Browne said in a statement.
Puerto Rico Gov. Ricardo Rossello said government agencies in the U.S. territory were prepared to deal with any emergencies caused by the storm but warned of flooding and power outages. He said 4 inches to 8 inches (10-20 centimeters) of rain were expected, as well as winds of 40-50 mph with gusts of up to 60 mph.
"We have established protocols for the safety of all," he said as he urged islanders to take precautions.
In the Dominican Republic, Public Works Minister Gonzalo Castillo said workers there were clearing away road works and also cleaning out blockages of sewer drains. He said President Danilo Medina would hold a meeting with emergencies agencies Monday to discuss storm preparations.
Meteorologists on Monday issued an alert for the Dominican Republic's entire eastern coast from the island of Saona to the town of Cabo Frances. Officials said the effects of Hurricane Irma would be felt Thursday.
Copyright AP - Associated Press