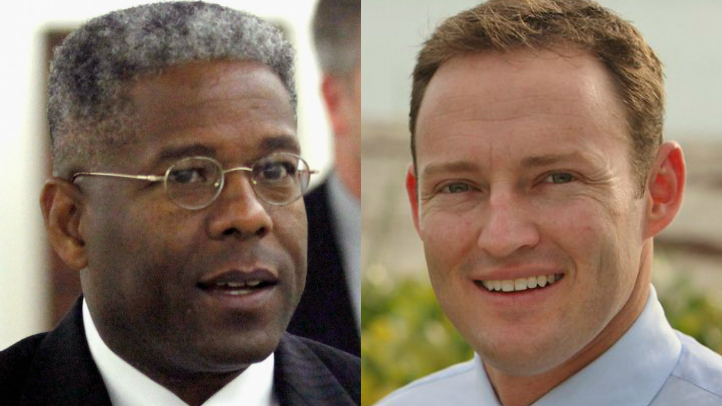 Election workers on Saturday were preparing to begin a recount of early votes in the 18th Congressional District contest between Republican U.S. Rep. Allen West and the man who apparently unseated him.

The St. Lucie County Canvassing Board voted Friday night in favor of the recount. Because three days of early ballots were recounted last week, the decision was intended to apply to only the other five days of early voting. But election workers say the ballots are no longer separated by the day they were cast, so all of them will be fed through scanners.

Democrat Patrick Murphy's campaign was readying court papers seeking an injunction to stop the recount. They say the county can only recount ballots in which there is evidence a counting mistake was made.

"There really wasn't any basis in the law for the decision they made," said Murphy attorney Sean Domnick. "It really doesn't change anything. He is the representative for District 18 and he will continue to be."

Saturday, West campaign manager Tim Edson said he considered Murphy's attempt to get an injunction "a last-ditch effort" to suppress votes."With every action attempted, Murphy demonstrates a complete lack of respect and utter disregard for the voters of St. Lucie County," Edson said.
The canvassing board's recount order Friday came hours after a judge declined to do the same.

Though Saturday's recount of early votes was a victory for West, whether it will change the result in the race remained to be seen. The canvassing board declined to order a recount of absentee ballots, which West's campaign had sought. Saturday's recount was technically being referred to as a "retabulation."
Murphy's campaign said West's ongoing recount efforts were "political stunts."
"Instead of admitting defeat, Allen West wants to keep counting votes until he gets the outcome he desires," campaign manager Anthony Kusich said in a statement. "That's not how elections work and that is not how the law works."

Allen West Refuses to Concede Congressional Race

West, a conservative favorite with a national following, has refused to concede. His campaign team said Friday that it would keep pursuing all its legal options. West's attorneys claim problems with counting of early votes in St. Lucie County are enough to warrant a full recount in that county.
The 18th District includes parts of Martin, St. Lucie and Palm Beach counties.

Judge Denies Injunction in Allen West, Patrick Murphy Race
Friday, Kusich said that Murphy "is ready to put the campaign behind him and move forward with addressing the challenges facing the people of the Treasure Coast and Palm Beaches, first and foremost of which is getting Florida back to work."

West's campaign questioned why Murphy would oppose a recount.
In its statement, West's team said: "Patrick Murphy has had such a good time with Nancy Pelosi pretending to be a congressman, he realizes a recount would likely derail his plans, and that's why his lawyers promised a lawsuit if all votes are recounted fairly and accurately. It's an interesting stance from a candidate who said he was the clear and outright winner."

Counties must file certified election results with the state by noon Sunday.

More Local News
Copyright AP - Associated Press