Hurricane Irma was a massive storm, but with the help of meteorologists and journalists across the state, many Floridians were able to prepare. Now, one South Florida elementary school class is showing their appreciation – in the form of thank you letters addressed to NBC 6 chief meteorologist John Morales.
Third graders at Renaissance Charter School penned their letters of gratitude to "Mr. Morales," thanking him for keeping the public informed and alert during the hurricane.
After all, it is always important to listen to the news -- and your parents.
"It lifts my heart to know that I helped keep families safe and calm, and gives me energy to continue to serve as my childhood home in Puerto Rico is about to be struck by Hurricane Maria," Morales said.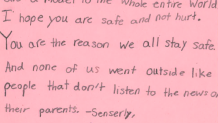 "You are the reason we all stay safe. And none of us went outside like people that don't listen to the news or their parents." – Rose Z.
Another student prided John Morales for not wasting time on social media websites as the hurricane was going on.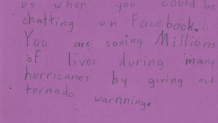 "Thank you for taking all this time warning us when you could be chatting on Facebook. You are saving millions of lives during many hurricanes by giving out tornado warnings." - Ariana S.
Other students were appreciative of Mr. Morales' calls to get supplies and food before the hurricane hit.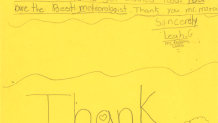 "You would tell us to get canned food. You are the best meteorologist. Thank you Mr. Morales." – Leah G.
In fact, some were so impressed and grateful, they felt Mr. Morales deserved an award.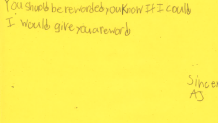 "Thank you for keeping Florida informed. You should be rewarded. You know if I could I would give you a reward."- AJ
And then there were the students who couldn't name just one thing they were thankful for – so they resorted to bullet-point lists.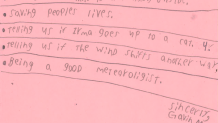 But the resounding theme in the letters had to do with Mr. Morales keeping Floridians safe and on track with news, warnings and tornado alerts.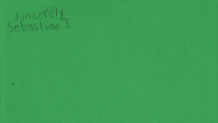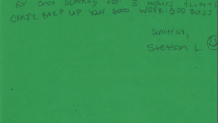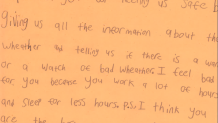 All of the letters were a project of Mr. Falzone's third grade math and science class.