A man has been arrested for allegedly shooting his gun at CityPlace in Doral over the weekend.
Alex Arnaud, 32, of Homestead, faces charges of attempted felony murder, discharging a firearm in public and resisting an officer without violence, the Doral Police Department announced Wednesday.
Arnaud was transported to Turner-Guilford Knight Correctional Center.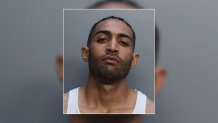 Doral Police, with the assistance of Homestead Police, arrested Arnaud for allegedly firing several shots inside a parking garage at City Place Doral Sunday night.
"The truth will set you free. Everybody will find out in a minute," Arnaud said when he walked out of jail.
Moments before the shooting, police say there was a fight between two groups that started at a restaurant.
"Some bottles were thrown, some people got struck, there were fist fight and then this individual we arrested produced a firearm," Rey Valdes with the Doral Police Department said.
The arrest report shows a witness told police the argument started after one of the men made unwanted advances toward her. Witnesses told detectives the shooter fled in a black Tesla SUV.
Police say photos of the Tesla at the parking garage and a search of the car's registration information led them to Arnaud at a Homestead home.
"When we approached his residence he was in the garage, and when he saw our officers who were clearly wearing identifiable uniforms he tried to make a run for it by running into the house but there were so many officers there both from our agency and Homestead PD that it was a negative situation for him," said Valdes.