A man landed onto railroad tracks when he flew from his motorcycle and fell off an overpass in Southwest Miami-Dade Monday evening, police said.
The accident happened on Killian Parkway and Southwest 107th Avenue just after 7 p.m. The motorcyclist lost control while traveling west on the off ramp of Don Shula Expressway, before hitting the guard rail and falling 20 to 30 feet below, officials said.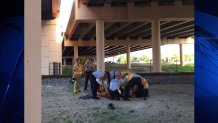 The railroad tracks below were temporarily shut down as Miami-Dade Fire Rescue crews treated the man. He was taken to a nearby trauma center. Paramedics said he was awake and talking, but his condition remains unknown.