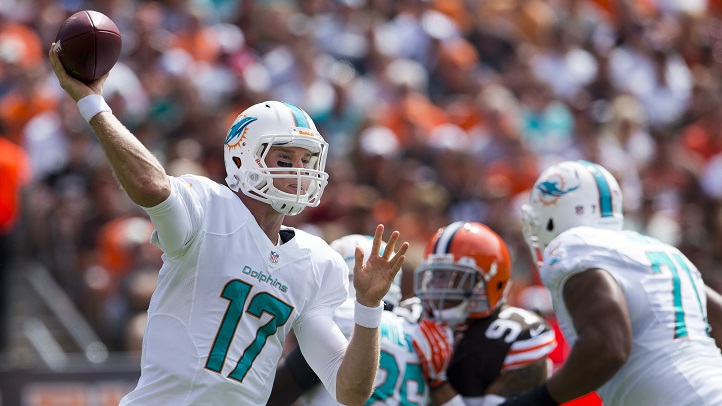 Having won their first two games of the season on the road, the Miami Dolphins return to Sun Life Stadium for their home opener on Sunday against the Atlanta Falcons. A year after falling to San Francisco in the NFC Championship Game, the Falcons have their sights set high, and they are once again loaded on offense.
"This is a well-coached football team," Dolphins coach Joe Philbin said this week. Atlanta has one of the top passing attacks in the NFL, and their rush defense is also among the league's best.
Both teams have a slew of injury problems that will add intrigue. Atlanta RB Steven Jackson is out with a thigh injury, while starting LT Sam Baker is also out. For the Dolphins, DT Paul Soliai and CB Dimitri Patterson are out, and the top receivers on both teams (Atlanta's Roddy White and Miami's Mike Wallace) are listed as questionable.
With a win, the Dolphins will be 3-0 for the first time since 2002.
When the Dolphins have the ball: The Falcons are only giving up 3.1 yards per rush, but opposing quarterbacks have completed 58 of 90 passes (64%) for 693 yards in two weeks. Miami has been comfortable mixing short throws with intermediate and deep passes to create space in the defensive backfield and pick up yards in chunks. Look for that to continue against Atlanta.
While Wallace is questionable, he is expected to play, as is QB Ryan Tannehill (who was limited in practice Wednesday due to a shoulder injury he sustained last week against Indianapolis). Center Mike Pouncey was limited in Friday's practice, but is expected to play Sunday.
The Falcons put LB Sean Witherspoon and defensive end Kroy Biermann on injured reserve after last week's win against St. Louis, which could result in a softer front against the running game. Miami ran for just 0.9 yards per carry in the season opener, but gained a more respectable 3.7 yards per carry the next week.
When the Falcons have the ball: Atlanta QB Matt Ryan may be missing his starting running back, but he has no shortage of weapons around him, including standout WRs Roddy White and Julio Jones. But the biggest worry for the Dolphins is TE Tony Gonzalez. Miami struggles against large, athletic tight ends, and Gonzalez may one day go down as the best who ever played the position.
Miami's banged-up secondary will need an assist from the pass rush, or else Ryan will have all the time in the world to find his targets. With Baker out, the Dolphins could elect to dial up the pressure on Ryan by going to their special pass rush formation (which puts 3 DEs on the field) early and often. Ryan has been sacked 5 times in two games.
Jaquizz Rogers will start in Jackson's place, and he has the speed to give the Dolphins trouble on the edge. Atlanta is a pass-first team, though. The Falcons have run the ball 15 times per game in 2013, while Ryan has attempted 40 passes per game.
Who has the edge? Normally, Atlanta's high-octane offense would seem like an insurmountable obstacle, but the Falcons' injury troubles and Miami's new-found offensive efficiency give them an opportunity to secure a quality win at home.
The Pick: Dolphins 28-Falcons 24
Details: Atlanta Falcons (1-1) at Miami Dolphins (2-0)
TV: FOX, 4:00pm, Chris Myers, Tim Ryan
Line: Dolphins by 2
Previously: Miami lost 19-7 at Atlanta in 2009