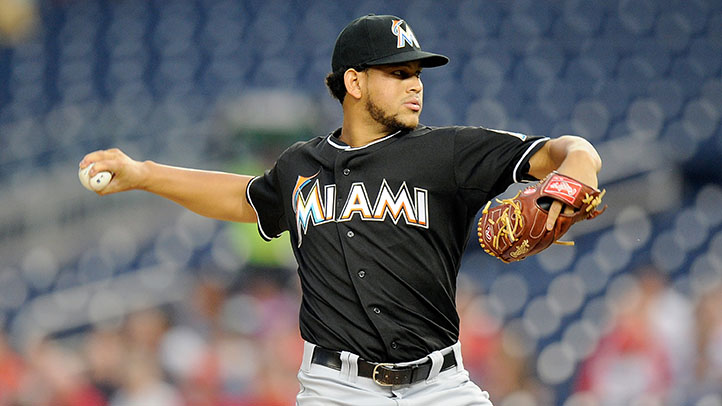 The Miami Marlins led by seven runs at one point but managed to hold on for a 10-7 victory on Monday against the New York Mets.
Henderson Alvarez started the game for Miami and was credited with his second win of the spring to improve to 2-1. Alvarez struck out five, walked two and allowed one run on three hits. It was not Alvarez's best appearance of the spring but he was still decent enough with two weeks to go before Opening Night. Most of the damage came in the eighth inning when Chaz Roe allowed five runs while only recording two outs. Roe who is in camp as a non-roster invitee is unlikely to make the team.
At the plate, it was a busy day for the Marlins as they tallied 12 hits including a pair of home runs. Reed Johnson who is vying for a roster spot was the first to send one out of the park when he connected in the fourth inning. It was Johnson's first home run of the spring and it came as a pinch-hitter. Johnson is a non-roster invitee but has had a tremendous spring and is likely going to win a role on the team. Johnson could even begin the year as a starting outfielder as Marcell Ozuna continued his struggles with a 0-2 day. As each day passes, it becomes increasingly likely that Ozuna may start the year in the minor leagues.
Giancarlo Stanton who is having arguably the best spring of anyone on the team hit his third home run in the Grapefruit League in the sixth inning. It was a three run blast and it gave the slugger nine runs batted in for the spring. Stanton has been consistently hitting all spring long and appears ready to go for the season opener.
The Marlins will face the Houston Astros on Tuesday with Jacob Turner set to make the start.