A missing child alert for a 9-year-old Florida boy has been canceled after authorities said the remains of a child were found in a home where detectives believe a fire was intentionally set at the residence to cover up homicides.

The Florida Department of Law Enforcement issued the missing child alert Sunday for Sebastian Meachum. The alert was canceled Monday after the Brevard Sheriff's Office found the remains of a child in a burned-out home.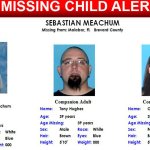 Brevard County Sheriff's spokesman Tod Goodyear told local news outlets the fire started Sunday morning and quickly engulfed the two-story home in Malabar, which is south of Melbourne on Florida's Atlantic coast.
The home was believed to be occupied by Tony and Chrissy Hughes, both 39; Hughes' son, Sebastian; and a relative who was visiting from out of state.
Firefighters at first found the remains of an adult woman in the home, and confirmed Monday that they also found the remains of a child. They were still searching the debris Monday for another female victim, officials said.
Autopsies were expected to begin Monday but a preliminary examination showed one woman was killed before the fire was started, authorities said. Goodyear says the victim has not been identified.
Meanwhile, a truck and boat trailer registered to the occupants of the home was found at a nearby landing Sunday, authorities said. The truck was found running at the boat ramp with the trailer submerged and the boat missing.
The Coast Guard later recovered the missing 18-foot motorboat driving in circles approximately seven miles offshore of Sebastian Inlet, officials said. The boat was unoccupied, and a preliminary search of the vessel found suspected blood evidence, officials said.
The Coast Guard was conducting a recovery effort in the area where the boat was located Monday.