It was a wild sight out on the seas in the Florida Keys Tuesday when not one, not two, but at least five waterspouts popped up.
The National Weather Service posted photos of the waterspouts that were spotted south of the Lower Keys. The funnel clouds popped up around 1 p.m., which prompted a special marine warning.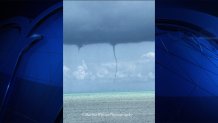 People posted photos of the weather phenomenon on social media. One of the photos captured by Barbie Wilson Photography showed at least five tails with one edging close to the water near Geiger Key.