What to Know
If you're living in South Florida and had plans to watch the hometown teams in action this weekend, you're going to be quite lonely.
If you're living in South Florida and had plans to watch the hometown teams in action this weekend, you're going to be quite lonely as many of the local teams are getting an early start.
The action starts Thursday with the Miami Dolphins and continues Friday with the Miami Hurricanes – all ahead of a weekend with several state schools playing maybe the most important games of their 2018 season.
So, which games are must watches and which ones can be skipped? Here's a look at how each game ranks with our not-so-scientific NBC 6 system.
Miami Dolphins at Houston Texans (Thursday)
Brock-toberfest continues this week for the Fins as backup quarterback Brock Osweiler makes his third start of the season – and the team quickly learned that a 3-0 start doesn't mean all that much after dropping three of their last four games and now facing a Texans team who has won four straight games and has never lost to the Dolphins at home.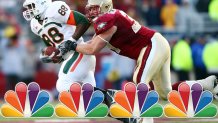 Miami Hurricanes at Boston College Eagles (Friday)
After a comeback win over rival Florida State that will live on for ages, the 'Canes found out how the other half lives when they dropped their last game against Virginia. After a week off, Miami is handing the keys to their offense back to quarterback Malik Rosier against an Eagles team that has been without their best player – running back A.J. Dillon – but also has won their last three weekday games.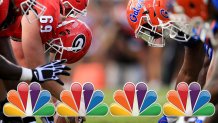 Florida Gators vs. Georgia Bulldogs (Saturday in Jacksonville)
For many old school fans of the orange and blue, this is the most important rivalry game of their season as the SEC East foes meet for the first time in a decade (2008) with both teams ranked in the top 10. If the Gators and their resurgent offense can win for the fourth time in the last five games against their rivals form Athens, the road is paved for a trip to the conference title game in December.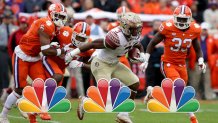 Florida State Seminoles vs. Clemson Tigers (Saturday)
After their sluggish start to the season, the Noles are one point away from being on a four game winning streak heading into this game. The undefeated No. 2 Tigers are a heavy favorite to win their fourth straight over the Seminoles, but FSU has played Clemson tough in each of those games that included having a late lead in 2016 in Tallahassee.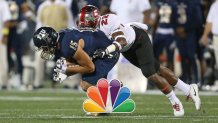 FIU Panthers vs. Western Kentucky Hilltoppers (Saturday)
This one isn't a shot at Miami-Dade County's other college football team, but more of an actual compliment considering the fact there will be no real challenge considering the Panthers are one of the top teams in Conference USA right now while WKU is sitting in the cellar with no hopes of coming up any time soon.
Other State Games
In college action, the Florida Atlanitc Owls will host the Louisiana Tech Bulldogs on Friday while the USF Bulls travel to take on the Houston Cougars on Saturday and the FAMU Rattlers host Morgan State as well.
In the NFL, the Tampa Bay Buccaneers travel to take on the Cincinnati Bengals while the Jacksonville Jaguars face off with the Super Bowl champion Philadelphia Eagles in London.