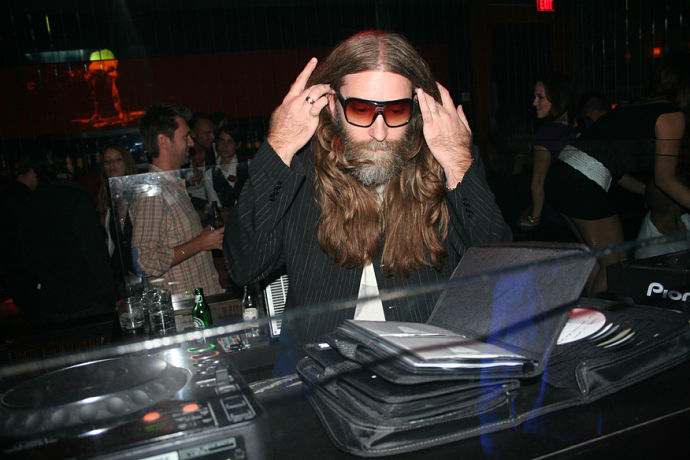 He brought after-dark bright to the likes of Kill Hannah and Shiny Toy Guns. He re-Warped such stalwarts as Good Charlotte and Hellogoodbye. He added muscle to the mega of Katy Perry and Avril Lavigne; keen to the cool of Kelis and Kid Sister; legend to the legendary Yoko Ono. He's been the in-the-know go-to for ABC and BBC; the lock-to-rock for Ultra Records; and the icing on the cake for Amanda Lear. He is Tommie Sunshine, who will not only be Main Staging at Ultra, Bed Heading at The Gale, and Returning to Chicago at The Shore Club; he'll be digging every amazing moment of Miami Music Week.
In a sentence or 3: What's Miami Music Week mean to you? This is the moment of glory for our culture. I've waited over 20 years to see the essence of our lifestyle creep its way into pop culture, and I am here from the 15th-25th so to not miss one single minute of the party! The world is finally waking up from the '80s-spawned self-indulgence of the last 30 or so years and we are finally back to a very '70s vibe of freedom and deep, satisfying hedonism. This is the best time in culture in my 42 years of life and it is glorious!
What have you got on the racks right now? I've been raising hell writing for the Huffington Post and my new single "Cool Without You" with Disco Fries & Kid Sister is KILLING all over the world!

What's racking in the near future? Re-launching my label Brooklyn Fire, involved in three different pitches for television, got quite a few new originals done with Disco Fries, we did a collab with Loopers, I just finished a track with Vince Moogin, there's a remix of Yoko Ono I did with Downlow'd coming out soon, I have remixes coming out of Steve "Silk" Hurley, Mt. Eden, Capital Cities, Robert Delong and the new Yeah Yeah Yeahs single "Sacrilege" all done with New York City's best-kept secret, Live City!
Who are you most keen on catching this MMW? Brodinski is the best of the new breed of DJs, Showtek are my new favorite beasts from Holland, and Robert Delong is going to own Ultra. Also I've VERY excited to hear what Skrillex is playing at this moment in time and I await the insanity of witnessing the last-ever performance of Swedish House Mafia.
Catch Tommie Sunshine on Saturday, March 16 at Ultra, Wednesday, March 20 at The Shore Club (w/Felix Da Housecat, Arthur Baker and DJ Pierre), and Friday, March 22 at Bed Head Hotel at The Gale.