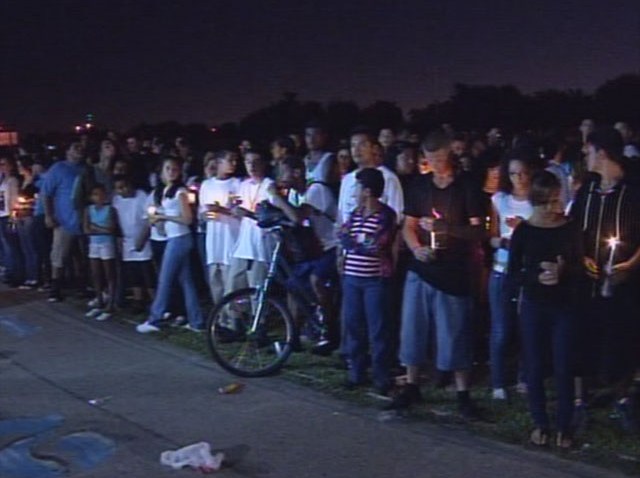 Hundreds of friends and classmates paid a tearful tribute to a South Florida teen who died after collapsing during gym class last week.
"Say a prayer, say it out loud, say it to yourself," said
Katrina Moss
, the longtime girlfriend of
Antonio Robas
to the crowd
Moss got the candlelight vigil going Monday night, even though she said she's still numb, and that keepsakes he gave her and chit chat they shared now take on profound importance.
Maybe it was the suddenness of his death, m
aybe it was the inexplicability if it, b
ut there were a lot of tears among the nearly 300 on the Braddock High School football field. Even the tough guys were shaken.
"And I want to say that I knew a good, young man," said a weeping Alejandro Abreu, "And I know he's not here but I will carry his legacy on with me."
Robas probably never knew he had so many who cared about him.
On Friday, in the noontime sun, he was jogging on the track surrounding the football field. Feeling unstable, witnesses tell police he stumbled to two trees for shade where he collapsed and died.
His mother, who lead a short walk to the spot of his collapse, was so moved by the size of the turnout that she overcame her pain to speak to the crowd.
"My heart is destroyed." Jenny Lara said in Spanish, "My youngest son and unfortunately God took him away."
And then, a piercing moment of silence.
Monday, the first day back at school after the death, was a tough, somber, challenging day, according to kids and teachers.
"They did their work. They participated in class. But you could just feel the sadness. You really could," said teacher Marta Pallidine. "It is a tough life lesson, for anyone at any age. Let alone at this age. You're 16 years old and watch your friend pass away for no apparent reason."
The Miami-Dade Medical Examiner's office has not announced a cause of death yet.
His funeral will be held Friday at 5 p.m. at 4100 Northwest 7th Street in Miami. The burial will be Saturday but no time or place has been determined.