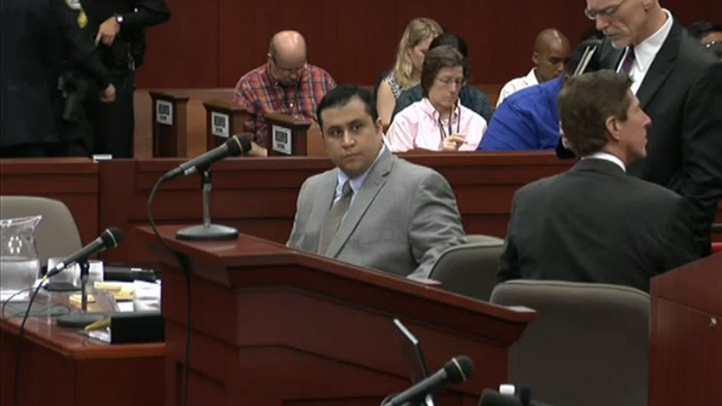 The second round of questioning of potential jurors in the George Zimmerman trial began Wednesday morning.

A pool of 40 potential jurors were in the Seminole County courtroom, which was reconfigured to accommodate them. Those potential jurors went through the initial round of questioning, which began last week and was focused solely on pretrial publicity.

Zimmerman is charged with second-degree murder in the February 2012 shooting of 17-year-old Trayvon Martin. He has pleaded not guilty, saying he acted in self-defense.

The parents of both Zimmerman and Martin were inside the courtroom Wednesday, as was Zimmerman's wife and sister. In an emailed statement, Zimmerman's brother, Robert Zimmerman Jr., said they were there for support.

"Despite safety considerations, the time was right to do what they could to visibly advocate for George's innocence," Robert Zimmerman Jr. said. "Our parents have avoided showing their face on-camera because of numerous death threats directed at our entire family."

He added that the family is caring for his ailing grandmother, which could prevent some family members from attending the court sessions.

"Going forward, security and other concerns are paramount and our periodic absence from court should not be misinterpreted as a withdrawal of support," he wrote. "Our position as a family has been clear & consistent since the night George was attacked: We are all sympathetic to the tragic reality of outliving a son or daughter, however... George acted in self-defense, self-defense should not be criminalized & we stand by George because he told the truth."

Circuit Judge Debra Nelson began by instructing the potential jurors not to talk or communicate with anyone about the case, before she read the formal charge against Zimmerman to them.

"Please understand that this questioning is not for the purpose of prying into your affairs for personal reasons but is only for the purpose of obtaining an impartial jury," Judge Nelson said.

Prosecutor Bernie de la Rionda was the first to question potential jurors Wednesday.

"We are here to seek justice," de la Rionda said, before reiterating that the case should be tried inside the courtroom.

"Whatever you read or saw outside this courtroom cannot, I want to stress that again, cannot factor in any way in your decision," de la Rionda said. "What you saw on TV or on the Internet or read by virtue of what the media said is completely irrelevant."

The jury that will eventually be selected to hear the case will be sequestered for the duration of the trial, Judge Nelson said last week.