The body of a U.S. soldier killed in Niger returned to South Florida Tuesday afternoon. The fallen soldier was saluted with a ceremonial homecoming upon arrival at Miami International Airport.
The American soldier is 25-year-old Sgt. La David T. Johnson of Miami Gardens, Florida. Johnson was assigned to the 3rd Special Forces Group, based at Fort Bragg, North Carolina.
His family, dignitaries and law enforcement officials stood to salute Johnson as a casket draped in the American flag was wheeled out of a Delta Airlines plane.
The slain soldier's body was being taken to the Fred Hunter's Funeral Home in Hollywood. A police procession was traveling from Miami International Airport to the funeral home.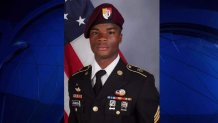 Sgt. Johnson was killed when a joint patrol of American and Niger forces was ambushed by militants believed linked to the Islamic State group, the Department of Defense said.
The military says his body was found 48 hours after an extensive search. The bodies of the three other U.S. troops were recovered shortly after the attack, which also killed four Niger military members.
The U.S. and Niger forces were leaving a meeting with tribal leaders when they were ambushed.
"President Trump spoke to all four of the families of those who were killed in action in Niger. He offered condolences on behalf of a grateful nation and assured them their family's extraordinary sacrifice to the country will never be forgotten," Press Secretary Sarah Sanders said.

Sgt. Johnson leaves behind two children, ages 2 and 6, along with his beloved wife Mrs. Myeshia Johnson, who is pregant with their third child.
Congresswoman Frederica Wilson and Congressman Alcee Hastings released a statement Tuesday demanding an investigation of the aftermath of the deadly ambush. Wilson and Hastings want to know why Sgt. Johnson was not found until two days after the three other soldiers were killed.
"My thoughts and prayers are with Sgt. Johnson's family and friends during this incredibly difficult time. Sgt. Johnson was an American hero, who served our nation with honor and distinction. The Army's Chief of Staff has acknowledged that a full investigation is underway. It is my sincere hope that all necessary resources are given to this investigation, so that we may know what happened during this horrific attack," said Congressman Hastings.
"Sgt. Johnson lived in my community, and is a member of the 5000 Role Models of Excellence Project, a program I started before he was born," Rep. Wilson said. "Role Model mentors and mentees all around the world are mourning his death. We need to know the truth, and we need to know it now."
The 5000 Role Model of Excellence Project is establishing a Role Model Army Sgt. La David Johnson Scholarship to benefit his children by providing money toward their education.