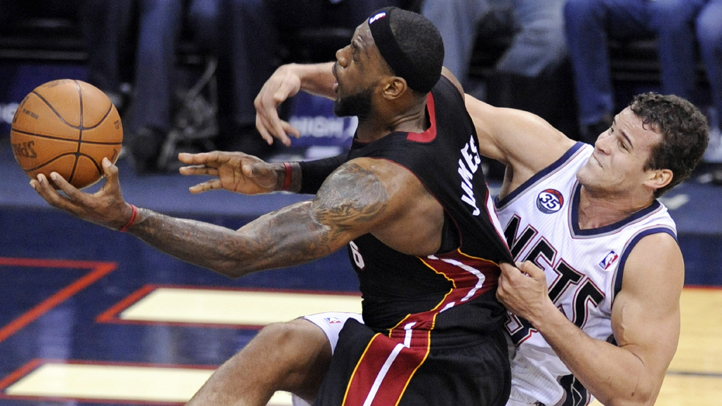 LeBron James returned to the lineup and scored 22 of his 32 points in the first quarter, and the Miami Heat rolled to a 101-90 victory over the New Jersey Nets on Saturday night despite playing without Dwyane Wade.

Wade missed his third straight game with a bruised left foot, but James had the game under control by the time his All-Star teammate arrived at his seat on the bench.

James made his first seven shots, leaping high for dunks, lobs and blocked shots and showing no effects from the sprained left ankle that forced him to miss a game. The NBA's leading scorer added nine assists and seven rebounds.

Chris Bosh added 16 points after a slow start for the Heat, who won their third straight and ran the NBA's best record to 8-1. They hope to have Wade back when they move to the West for the final three games of a five-game trip.

Kris Humphries tied a career high with 25 points and grabbed 12 rebounds for the Nets, who shot just 33.7 percent in front of a sellout crowd of 18,711. Deron Williams had 10 points and 10 assists but was just 4 of 16 from the field.

James took part in the morning shootaround, but the Heat didn't decide he would play until shortly before tipoff in order to see how he felt after warming up.

He was fine.

James quickly proved it, taking a hit but converting the basket for a three-point play barely a minute into the game during the Heat's 10-0 start. He hung on the rim as the backboard shook for a couple of seconds after one dunk, appearing to motion to someone near the court.

Wade also worked out prior to the game before the Heat decided to give him additional rest. He arrived at the Heat bench near the end of the first quarter, just in time to see James throw down a fast-break dunk in the final minute and later hit a 19-foot jumper with 0.2 seconds left for a 31-18 lead.

James finally missed after returning from a second-quarter rest, off on an attempted bank shot, but made his final shot of the half and Miami took a 57-35 lead into halftime.

Bosh, who had 33 points and 14 rebounds Thursday in the Heat's triple-overtime victory in Atlanta without the other two-thirds of the Big Three, shot 1 for 6 in the first half.

The Nets were 15 of 31 behind the arc in Friday's 97-85 victory over Toronto, and coach Avery Johnson said the 3-ball needed to be a weapon because his team has no post game with starting center Brook Lopez out with a broken right foot. But the Nets missed 18 of their first 21 Saturday before finishing 10 of 33.

Still, the Nets cut it to 10 on Williams' 3-pointer with 4:27 left in the third, and had a chance to get closer on their next possession when rookie MarShon Brooks drove for a layup. But James blocked the shot to trigger a fast break that led to Shane Battier's 3-pointer, and rookie Norris Cole followed with one to make it 72-56.

Udonis Haslem had 12 points and 12 rebounds for the Heat.

Notes: Heat coach Erik Spoelstra said injured swingman Mike Miller (hernia surgery) will take place in his first practice with contact Monday in California. Also, Spoelstra said Eddy Curry (hip) is getting closer to being cleared for full contact and was "very encouraged" by the oft-injured center's progress. ... Lopez said his recovery from surgery was going well and that an X-ray Saturday was negative. He was injured in a preseason game at New York on Dec. 21 and learned the extent of the injury the next day. "I didn't see it coming at all," he said. "I thought it was a tweaked ankle or something." ... Arizona Cardinals receiver Larry Fitzgerald was at the game.
Copyright AP - Associated Press