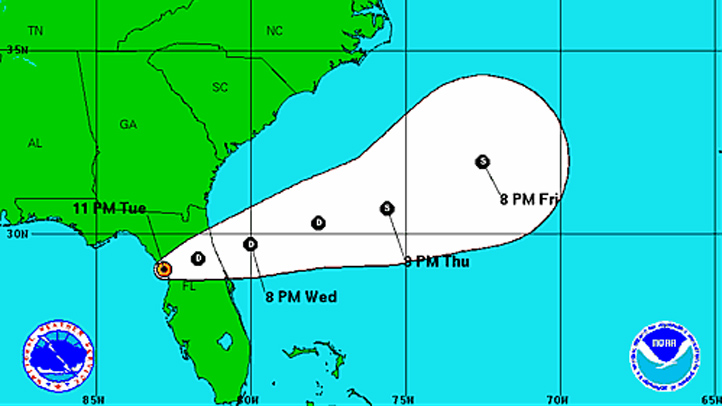 Tropical Storm Debby has been downgraded to a tropical depression, but coastal and inland flooding threats remain, according to the National Hurricane Center in Miami.
Debby made landfall near Steinhatchee on the northwest Florida coast on Tuesday.
As of about 11 p.m., Debby was about 20 miles east-southeast of Cedar Key, Fla., with maximum sustained winds at 35 mph. Debby was moving southeast at 7 mph.
The tropical storm warning for Florida's Gulf Coast was ended. A tropical storm warning had been in effect for the coast from Steinhatchee to Englewood.
After raking Florida's Gulf Coast with high winds and heavy rain, Debby promised to bring more of the same in the coming days as it drifted on a path forecast to take it over the state and east into the Atlantic by Friday.

Debby was expected to turn east later in the night, then move toward the east-northeast on Wednesday. The storm will cross the northern Florida peninsula Tuesday night and Wednesday morning, and possibly emerge into the Atlantic Ocean later on Wednesday, the National Hurricane Center said.
Interactive Radar

The wind, high surf and relentless rain have made the storm's presence felt.
The Florida Highway Patrol closed portions of Interstate 10 in north Florida early Tuesday due to flooding caused by rain. Troopers reported several areas of flooding on a roughly 50-mile stretch of the east-west interstate east of where it crosses I-75 and the agency warned motorists to use extreme caution on other parts of the highway.
South of that stretch of I-10, four puppies and a young dog drowned when a swollen creek flooded an animal shelter in the city of Starke. The Florida Times-Union reported that officials placed sandbags and dug trenches outside to protect the shelter, but the water rose quickly Sunday night.
Farther south, in the Tampa Bay area, roads such as Tampa's Bayshore Boulevard were washed out. Residents tried to salvage belongings from flooded homes in low-lying areas. At one point Monday, high winds and flooding concerns prompted authorities to close two major routes over Tampa Bay into St. Petersburg.
A mother manatee was found dead in the water Tuesday off Bayshore Boulevard. Her two calves, which were still alive, washed ashore along the flooded road which runs along Tampa Bay. Members of the Tampa Police Marine Patrol called Lowry Park Zoo and the Florida Fish and Wildlife Conservation Commission to help with the rescue of the baby manatees.
Forecasters were expecting the rains to continue, bringing another 4 to 8 inches across northern Florida. The storm could also bring up to 10 inches of rain to the Brunswick area in southeastern Georgia, forecasters said.
Torrential rains and flooding would continue across parts of the Florida Panhandle and northern Florida for several days, even though the storm wasn't expected to gain strength.
"The widespread flooding is the biggest concern," said Florida Emergency Operations Center spokeswoman Julie Roberts. "It's a concern that Debby is going to be around for the next couple of days, and while it sits there, it's going to continue to drop rain. The longer it sits, the more rain we get."
At least one person was killed Sunday by a tornado spun off by the large storm system.
Florida Gov. Rick Scott declared a statewide emergency, allowing authorities to put laws against price-gouging into effect and override bureaucratic hurdles to deal with the storm.
Forecasters cautioned that Debby is a large tropical cyclone spreading strong winds and heavy rains at great distances from its center.
They said it would crawl generally east, come ashore along Florida's northwestern coast Wednesday night and track slowly across the state, exiting along the Atlantic Coast by Friday and losing steam as it crosses land.
"We're not expecting the storm to intensify," said Ernie Jillson, a forecaster with the National Weather Service in Tampa, early Tuesday. "We're expecting it to stay a fairly weak tropical storm."
People in several sparsely populated counties near the crook of Florida's elbow were urged to leave low-lying neighborhoods because of the danger of flooding. Shelters opened in some places.
Copyright AP - Associated Press