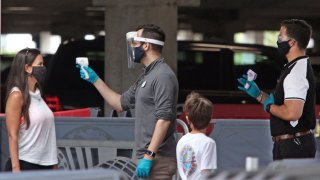 Universal Orlando will stop doing temperature checks and reduce social distancing requirements starting Thursday.
Social distancing between parties have been reduced to three feet (1 meter). Guests are still required to wear a face covering throughout their visit, even if they are vaccinated.
Sanitizing hands prior to boarding rides is still required. Park officials say their "dedication to cleanliness and sanitization" is ongoing.
Updates to the park's safety guidelines come as Gov. Ron DeSantis signed into law on Monday legislation giving him sweeping powers to invalidate local emergency measures put in place during the pandemic — including mask mandates, limitations on business operations and the shuttering of schools.
Walt Disney World announced they would be removing temperature checks for cast members on Saturday and for guests on May 16th.
Universal Orlando is owned by NBCUniversal, the parent company of WTVJ-TV / NBC 6