At the center of a cluster of apartment complexes in Miami's liberty city lies a thriving garden.
On any given day, you can find long-time resident Nicole Fowles and her granddaughters tending to the garden. The grandmother is the Garden Manager at the sprawling urban farm which was set up by the non-profit organization Health in the Hood.
"I can just walk out my door if I want a salad. If I want to make a sweet potato pie, I have the sweet potatoes right here. And, so do my neighbors," said Fowles.
Health in the Hood sets up gardens in communities in Miami-Dade and Broward counties in an effort to help residents gain access to healthy, fresh vegetables. Asha Loring is the founder of the group and she says healthy attitudes are being adopted in these communities.
"Kids are growing up with vegetables in their backyard where they would not be able to that if they were 10 blocks away from the garden," said Loring. "We're really getting to see people's trajectories changing from growing up in a food environment."
The targeted areas are deemed "food deserts" by the U.S. Drug and Food Administration. These communities have 500 or more residents that don't have access within a mile to a grocery store with fresh fruits and vegetables. There are more than a dozen food deserts in South Florida.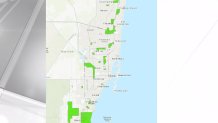 "Getting to the store sometimes is hectic. You might not have a ride at that moment. Or, your car might not be running," Fowles explained.
Dr. Joseph Mosquera, a general practitioner, says many food deserts are located next to very wealthy areas. "Food deserts contribute to almost all the chronic diseases and conditions people are familiar with," said Dr. Mosquera.
The common health problems seen in these areas include diabetes, high blood pressure, cholesterol and basic forms of cancer. A person's zip code can have a bigger impact on their health more than their genetic code, according to a study by the Centers for Disease Control and Prevention.
Chad Cherry is the resident chef for the Northwest Gardens, located in Fort Lauderdale's Sistrunk District. The area is also deemed a food desert. He says he sees many of his neighbors suffering with these chronic diseases.
"The connector is that they're food preventable," Chef Cherry explained. Northwest Gardens is run by the Fort Lauderdale Housing Authority. Chef Cherry provides nutrition education to more than 4,000 people living in community. They also get free veggies from the gardens.
"It's a shame because the common knowledge that we take for granted, especially for me as a chef, it's like I know what this vegetable is and I've worked with it. They don't have that," said Chef Cherry.
A study by the Florida Department of Agriculture and Consumer Services suggests if as little as 1% of the population in food deserts gain access to fresh produce, more than 600 premature deaths could be prevented.