A woman who is accused of shooting her former manager in the chest after she was fired from her job at a Metro by T-Mobile in Lauderhill has surrendered to authorities at the Broward Sheriff's Office Main Jail, police said.
Just around midnight Sunday, 27-year-old Rachel Boisette surrendered to authorities and has been charged with attempted homicide with a firearm, Lauderhill Police said.
Investigators were at the scene of a hit-and-run in the 5500 block of West Oakland Park Boulevard Friday, when they got a call about someone trespassing at the T-Mobile store nearby.
Moments later, police say the victim ran up to officers, saying that he had been shot multiple times in the chest.
He was rushed to Broward Health, where his condition was unknown.
Police said Boisette was a former worker who came to the store to confront her manager about being fired.
An arrest affidavit showed Boisette entered the store many times throughout the day on Friday starting at about 1 p.m. and created a disturbance. The report says several 911 calls came from the store.
Just before 7 p.m., Boisette confronted the victim about her firing. He ignored her and she shot him in the arm.
Boisette allegedly followed the victim to the bathroom where he was hiding and tried to shoot through the door, but the gun had a malfunction.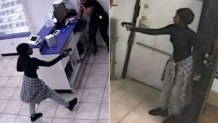 The manager was transported to Broward Health Medical Center and survived the shooting. He told police, per the arrest report, that he knew Boisette for 2 years and they were friends outside of work.
Boisette is being charged with attempted felony murder and is currently held without bond.