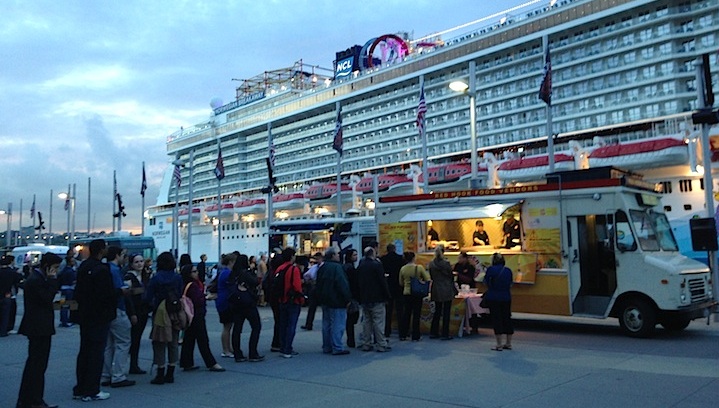 Last night, Village Voice threw their 2nd annual food truck event Choice Streets on Pier 86 at the Intrepid. What better way to spend a beautiful spring evening than to get a taste of some of the city's best street eats right next to the famous USS Intrepid.

Here are some highlights:

Red Hook Street Vendors' Solber Pupusas, serving up pupusas, a hot corn tortilla filled with meat (or cheese).


A Bufala slice at Neapolitan Pizza.
Souvlaki GR charcoal grilled chicken with Souvlaki sticks and hand-cut Greek fries.
Chef Samir's lemon chicken couscous at Come Ci Comme Ca.
A delightfully surprising amount of vegetarian options like the veggie flautas.

There was no shortage of dessert trucks, like Wafels & Dinges, serving up hot Belgian waffles.

Attendees feasted while the sun set over Pier 86.
Copyright LXTVN - LXTV