There was plenty of action going on backstage at E! People's Choice Awards Sunday night.
With celebs like Jennifer Aniston, Gwen StefaniPink, Jimmy Fallon and more in attendance, it was a star-studded event that you didn't want to miss, and that included what was happening between awards and during the commercial breaks.
Kevin Hart made his first official appearance since his car accident back in September and Bretman Rock dethroned James Charles for the honor of The Beauty Influencer.
[NATL] Top Moments From the People's Choice Awards 2019 in Pictures
With the People's Choice Awards being the show that is entirely by the people, for the people, it's fitting that these fun backstage pics make us feel like we were at the show ourselves, hanging out with the likes of KJ Apa and Adam Sandler.
People's Choice Awards 2029 Red Carpet Fashion: See Every Look as the Stars Arrive
We've gathered up the best of what went down backstage at the PCAs below.
FRIENDS FOREVER
People's Icon winner Jennifer Aniston poses with her long-time friend Adam Sandler, who introduced the Friends star before she took the stage to accept her award.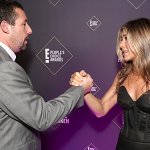 THE ONE WHERE JENNIFER ANISTON IS A WINNER
Aniston gives the camera a little love while holding her People's Icon trophy. During her speech, Aniston said, "None of us could do what we do if it was not without all of you."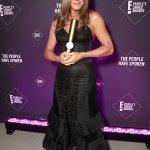 LOVE. AWARDS. MUSIC. BABY.
Gwen Stefani's smile is as bright as her Fashion Icon trophy that she received honoring her decades of style. The star said how "the fact that this is happening right now is hard to imagine" in her acceptance speech while wearing a stunning Vera Wang high-low gown.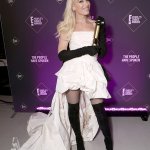 TWO ICONS ARE BETTER THAN ONE
Stefani and Aniston, who respectively took home the lifetime achievement awards for Fashion Icon and People's Icon, pose together after the show.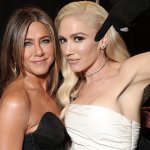 A HART-WARMING RETURN
Audiences were thrilled to see Kevin Hart step out at the 2019 E! People's Choice Awards for his first official appearance since his car accident back in September. The comedian posed with his wife, Eniko Parrish, and his son, Hendrix Hart.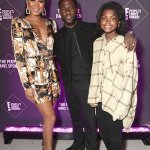 A WINNING TEAM
Robert Downey Jr. snapped a pic with Hart. Both had won earlier in the night, with Downey Jr. earning the title of The Male Movie Star of 2019 and Hart scooping up a trophy for The Comedy Act of 2019.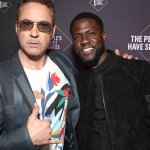 RAISE YOUR GLASS!
Pink poses with her People's Champion trophy, which was given to the singer for her many years of philanthropy with organizations like Make-a-Wish.
During the show, she encouraged fans to get involved saying, "You feel like you don't matter, feel like your life doesn't matter? Get involved."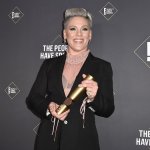 REPORTING FROM RIVERDALE
Cole Sprouse may play a moody Jughead on "Riverdale," but the actor himself was beaming after winning The Male TV Star of 2019.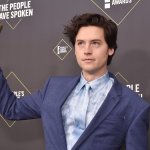 FUNNY BUSINESS
We're sure a lot of laughs were had with these comedians! Terry Crews, David Spade, Adam Sandler and his wife, Jackie, posed for a photo together.
SCREAM QUEENS
Lucy Hale and Maggie Q strike a pose together. The duo will be starring in a Valentine's Day thriller together called "Fantasy Island" and they gave E! News all the scoop on the PCAs red carpet.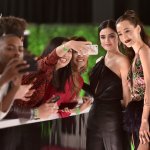 JENNA'S PRECIOUS +1
Jenna Dewan showed off her baby bump behind-the-scenes at the PCAs. She and her boyfriend, Steve Kazee, are expecting their first child together and we can't wait to see the little tot someday on the red carpet, too!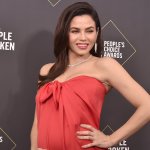 ROCK-ING A PCAS WIN
Bretman Rock posed backstage with his PCAs trophy that he scooped up as The Beauty Influencer of 2019. The turtle-loving YouTuber's silver ensemble was only outshone by his brassy new hardware.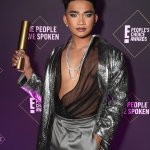 Copyright E