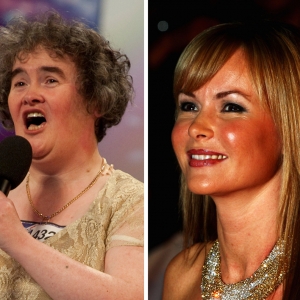 "Britain's Got Talent" isn't even over yet, but judge Amanda Holden has said Susan Boyle needs to get an album out fast.
Amanda, a British TV actress, who sits on the judging panel alongside Piers Morgan and Simon Cowell, said there will be no time to waste on recording Susan's album after the "Britain's Got Talent" finale.
VIEW THE PHOTOS: The Latest Star Sightings
"Whether she wins or not, she's going to have a record contract with Simon and go on to greater things. Simon's team can't show bias so there is no way she has been anywhere near a studio yet," Amanda told UK paper News of the World over the weekend.
"After the show there won't be any time taken to record her album — there can't be," she added. "They need to get her into a studio straight after the show and get that bloody thing out."
VIEW THE PHOTOS: Keepin' It Real With TV's Hottest Reality Stars!
Amanda said she is worried about Susan (who is now affectionately known in the UK as SuBo), and her chances on "Britain's Got Talent," as the public can be fickle.
"I think it can go either way. We've built her up and the public could go, 'She's too big for her boots, she's too cocky.' She isn't. But we don't like too much success. It's a shame," Amanda told the paper. "But she's got the Scottish vote and I think the British public are still very much on her side."
And the actress is not convinced the 48-year-old Scot will have a lasting career following the reality show.
VIEW THE PHOTOS: Anything But Dreadful! Hot Shots Of Simon Cowell!
"She'll be an instant international superstar — but I don't think she'll have longevity," Amanda told the paper.
But Amanda says SuBo won't mind.
"This world is fickle. We pick people up and spit them out just as quick," Amanda said. "We move on very fast. But who cares? She won't. This is more than she ever dreamed of anyway."
In related news, off the back of the world's interest in the Scottish singer, Amanda has found herself a job in the U.S. – she's reportedly doing work on CBS' "The Early Show," following the "Britain's Got Talent" finale.
"For the last 15 years I have gone to LA for weeks every year and had loads of screen tests and many near misses that you just don't talk about. I was nearly a Bond girl once," Amanda said. "Then I met my husband and had a baby and my priorities changed. But I never let go of that dream. Now I go with my entire family in tow.
"So for this to happen off the back of SuBo, I can't believe it. It's major. I owe her," Amanda added. "I am definitely on the Boyle bandwagon."
Related Content from AccessHollywood.com:
PLAY IT NOW: Piers Morgan Talks Susan Boyle
PLAY IT NOW: AUDIO: Britain's 'Talent' Sensation Susan Boyle Talks Newfound Fame

MORE ACCESS ON THESE TOPICS: Britain's Got Talent - Susan Boyle - Brits - Celebrities - Simon Cowell

Copyright NBCAH - Access Hollywood