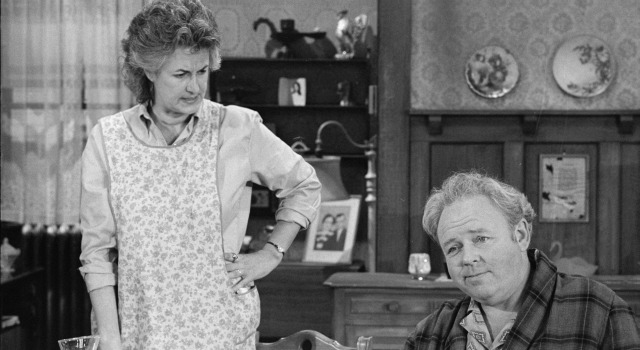 Before becoming a "Golden Girl," Bea Arthur was all brass as "Maude."
Sure, Marlo Thomas and Mary Tyler Moore broke silly TV gender-role barriers playing variations of spunky career gals. But Arthur's Maude Findlay was an unapologetic, real woman: a thrice-divorced, 40-something grandmother, who proudly wore her feminism on the hem of her pantsuit.
"Maude" debuted in 1972, after spinning off from another ground-breaking sitcom, "All in the Family" (Arthur guest starred as Edith Bunker's liberal cousin who verbally sparred with reactionary Archie).
While blue-collar bigot Archie Bunker pushed back at the changing world closing in on him, upper middle class liberal Maude constantly rammed the graying head atop her 5-feet-91/2 frame into a glass ceiling of convention.
Both unabashedly outspoken and opinionated characters were the brainchild of producer Norman Lear, who convinced CBS – once known as the home for tame fun fare like "The Beverly Hillbillies" -- to let him air sitcoms that reflected the turbulent times. "The Jeffersons" (another "All in the Family" spinoff) and "Good Times" (a "Maude" spinoff) extended the Lear legacy.
"Maude" tackled a TV taboo it's first season: Arthur's character decided to get an abortion in a show that aired as the U.S. Supreme Court weighed Roe v. Wade. From 1972 to 1978, viewers saw Maude go through menopause, pour out her soul on a shrink's couch and even sacrifice her marriage to seek political office.
But "Maude" was anything but just an issue-of-the-week meditation: the show could be damn funny, thanks to the writers, the ensemble cast – and Arthur.

Arthur's imposing physical presence and husky voice, along with comic timing honed on the stage ("Mame"), gave thrust to the sharp-tongued jibes written for Maude, who always enjoyed the last word: "God will get you for that."
The show never shied away from the contradictions between Maude's relatively lush life and her liberalism, with her professed beliefs often clashing with her reality. Like Carroll O'Connor's Archie Bunker, Arthur's character proved far more than a caricature – Maude was always real, even if you didn't always like her.
The headlines and obituaries for Arthur, who died Saturday at 86, predictably have centered on the "The Golden Girls," which is understandable. The show, in which Arthur played a quick-witted divorcee of a different age and type, was a fresher hit with a more timeless, intergenerational appeal that's made syndication a kinder trip.
It's worth noting that "The Golden Girls" was created by Susan Harris, the writer behind some memorable "All in the Family" and "Maude" episodes – including the two-part abortion story arc, which some affiliates wouldn't air.
Though Arthur probably will be remembered best as "Golden Girl" Dorothy Zbornak, as her first show's theme song reminds us, "and then there's Maude."
Hester is founding director of the award-winning, multi-media NYCity News Service at the City University of New York Graduate School of Journalism. He is the former City Editor of the New York Daily News, where he started as a reporter in 1992.
Copyright FREEL - NBC Local Media