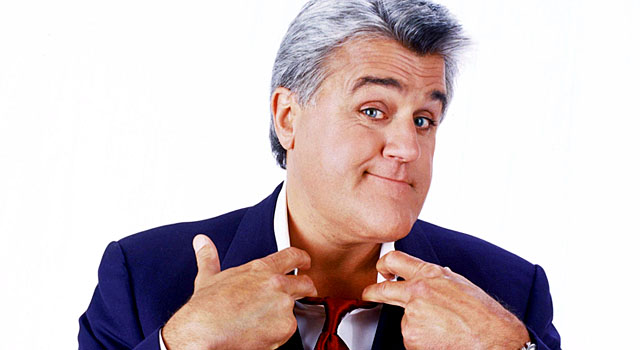 No one would have pegged self-effacing Jay Leno as one of the most controversial hosts in talk show history.
The nightclub comic staged an upset 17 years ago when Johnny Carson, who made "The Tonight Show" the crown jewel of late-night TV, practically anointed his protégé, David Letterman, as his successor. Instead, Leno got the call from NBC to helm the show, and a bitter Letterman strode right over to CBS.
(Msnbc.com is a joint venture of Microsoft and NBC.)
Despite a slow start, Leno has consistently beaten Letterman in the ratings. Yet in 2004, Leno graciously announced that his Tonight Show contract would end in 2009, and Conan O'Brien would take over.
NBC feared O'Brien was ready to pull a Letterman. O'Brien, it was reported, was getting tired of waiting for his time to shine and was looking at options outside of NBC. It appeared to those unfamiliar with Leno's driving ambition that he would shuffle off into semi-retirement. But like a come-from-behind Kentucky Derby winner, Leno apparently was biding his time, waiting to make another big career move.
After being courted by other networks, Leno pulled the ultimate coup — undermining "The Tonight Show with Conan O'Brien" by hosting his own NBC 10 p.m. kind-of-late-night show that wipes out five hours of time traditionally reserved for dramas and newsmagazines.
It's not the first time a late-night show host has gone prime time. Jack Paar did it back in 1962 for three years, but that was just a once-a-week gig. Leno coaxed NBC executives, who worried Leno might leave and take his audience with him, into handing over a considerable chunk of their programming space.
Leno said in a recent conference call with reporters that the network originally offered him an 8 p.m. half-hour slot five days a week.
"No one's going to watch a 59-year-old not the best-looking guy in the world for a half hour," Leno said. "You need attractive guests and women and you need more of a show."
New show is recession-friendly
Leno's not revealing exactly what form his new show will take, but he is absconding with many from his "Tonight Show" crew and a full bag of popular bits, from Jaywalking to newspaper headline mocking.
Leno has always made less money than Letterman, and takes pride in the fact that he has seldom taken time off from the show for illness or vacations. He's a pragmatist willing to do what it takes to make his show spew money like an out-of-control ATM.
NBC is banking on the popular Leno to bring viewers in at 10, but more importantly, to do it on the cheap. Leno's even willing to shill products on his show to further open the cash flow pipeline.
"If it was up to (NBC executive Ben Silverman), I would be out there doing the monologue wearing a McDonald hat with a Budweiser jacket on. I'm pretty much an advertiser-friendly guy," Leno said. "Obviously, we will do what we need to do to sell the show and help the sponsors."
In short, Leno's new show provides the network a recession-friendly way to program that expensive piece of 10 p.m. real estate.
"I mean, this is an economic decision as well. We can do five Tonight Shows for less money than you can shoot any one of these 10 o'clock dramas," Leno said. "And if we win, well, that would be gravy."
No one at the network expects him to beat the scripted competition every night of the week, but taking down the weaker members of the herd is a definite possibility. Leno, and NBC, believes there is a real thirst for some chuckles before viewers hit the sheets. Leno said his new show will push the comedy hard, especially in the last half hour.
But it's not all laughs in Lenoland. Leno's thigh-high in controversy as NBC makes room for his ubiquitous show. The move can either be seen as visionary, or the first step towards disaster.
The risk at first is minimal. There haven't been any big drama winners coming out of the 10 p.m. timeslot in at least the past five years. There has only been one major hit, "Grey's Anatomy" in 2005, and one solid rating performer, "Brothers & Sisters" in 2006, while the landscape has been littered with critically acclaimed, but disappointing series including "Shark," "Journeyman" and "Dirty, Sexy Money."
Regardless of the 10 p.m. drama track records, Hollywood producers were angry about the loss of scripted shelf space. But in revealing their new schedule, NBC has used Leno as a way of extending the season by ordering more original programming than ever before and stretching it into a year-round model with few repeats.
In the new model, NBC has ordered up inexpensive series including the Canadian supernatural drama "This Listener," the British import "Merlin," and two sci-fi miniseries all airing this summer. Beginning in the fall, the network will do time sharing with limited runs of series such as "Chuck" and "Heroes" to keep fresh programs in the 8 to 9 p.m. slots leading up to Leno's domination of NBC's 10 p.m. weekday block.
In addition to enticing viewers with an extended season of new shows with limited repeats, network executives also are banking on Leno's comedy against the heavy dramas offered on the other networks at 10 p.m. as a good viewing alternative.
Of course, if viewers want laughs, Leno said NBC at 10 p.m. is the place to be.
"Every time I turn on a show at 10 o'clock, (you see) 'we're taking off the cerebral cortex now.' That's fine, but before I go to bed, I'd like to see something funny," Leno says.
While Leno makes a good point about alternative programming, it's hard to forget what happened when ABC attempted a similar move by shoving "Who Wants to be a Millionaire" in every time slot. The game show exploded on the scene in 1999, prompting ABC to run the series four times a week by 2000. It only took a year before the boom went bust, and the cocky network, which had cut back on pilot orders, was left with nothing to substitute. ABC went through a painful rebuilding process and has yet to regain its top spot in the ratings race.
NBC's willing to take that risk with Leno. Given his success at late night, he may just be able to pull off this bold experiment.
Susan C. Young is a San Francisco Bay Area writer.
Copyright MSNBC - MSNBC