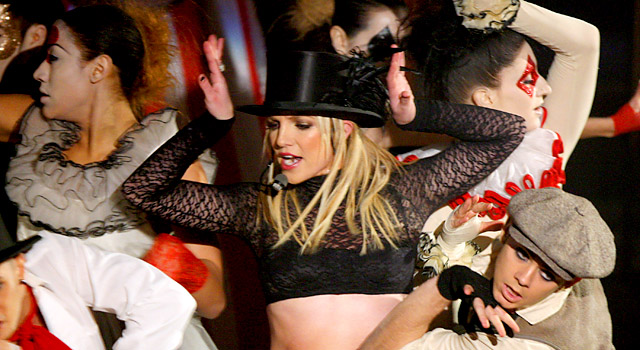 State police arrested Kyle King, 20, of Orlando, Florida, Saturday after the overzealous fan jumped up on stage for Britney Spears' encore during her aptly named Circus Tour.
Amidst Spears' performance of "Womanizer," King was so overcome with lord-knows-what that he leaped from the stands of the Mohegan Sun Arena and onto the stage, joining Brit's dancers.
Needless to say, King was promptly escorted off stage, whereupon cops charged him with breach of peace and interfering with police.
King was released Sunday morning after posting a $250 bond and is due in Norwich Superior Court on June 18.
And apparently there was something of a circus out in the stands, too.
State police said Gary Laverriere, 39, walked up behind a woman and fondled her breasts, the Day of New London reports.
The victim notified security and police arrested and charged him with fourth-degree sexual assault and breach of peace.