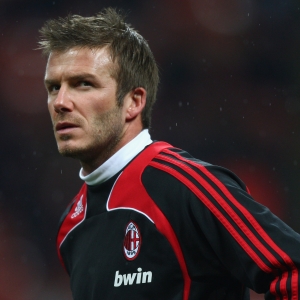 Soccer sensation David Beckham just might be the world's busiest soccer player now that he's extended his stay with AC Milan.

During an appearance on NBC's the "Today" show, David answered some of the questions that fans on both sides of the Atlantic have been dying to find out.

VIEW THE PHOTOS: See Victoria Beckham In Her Sexy Underwear Photo Shoot!
"[Milan] has been a great time, great experience — you know, one of the greatest clubs in the world and now I've been able to extend my loan till the end of this season, then I'll go back to the Galaxy finish the season off there, and then we'll see." he told co-host Matt Lauer.

David explained that his desire to leave the Galaxy had to do with playing in his home country.

VIEW THE PHOTOS: The Beckhams — Posh & Becks!
"I want to play for my country, I want to play in the World Cup in 2010 and to do that I have to play here in Europe and I have to be playing at the highest level," David said. "It doesn't mean I'm not committed to my role as an ambassador in the MLS and also to the Galaxy because I'm still contracted to them and I've got a lot of respect for Tim Leiweke (president of Galaxy owners AEG) and everybody that put me there but at the moment I need to be playing at this level."

But will David stay in the America for the remainder of his contract with the LA team?

"Without a doubt, absolutely, I've already said that I'm still committed to my contract with the Galaxy but like I said, at the moment I need to be playing in Milan and I need to be focused on trying to make the 2010 World Cup," he told Matt. "I'm passionate about playing for my country and hopefully I can do that with staying here."

VIEW THE PHOTOS: David Beckham
David said his recent ankle injury wouldn't stop his drive to play in both Europe and America.

"I'll be playing here for another couple of months and then I'll have four weeks off and then I'll head back to the US and play the last 12 - 13 games there and then over Christmas, I'll be able to get another rest," he added. "I've always said I'd rather be playing more football than less… so for me it's ideal."
Related Content from AccessHollywood.com:
PLAY IT NOW: Battling Scents: Posh & Becks Vs. J. Lo
PLAY IT NOW: David Beckham Hits The NBA Finals (June 15, 2008)

MORE ACCESS ON THESE TOPICS: Athletes - David Beckham - NBC - Matt Lauer - Victoria Beckham

Copyright NBCAH - Access Hollywood