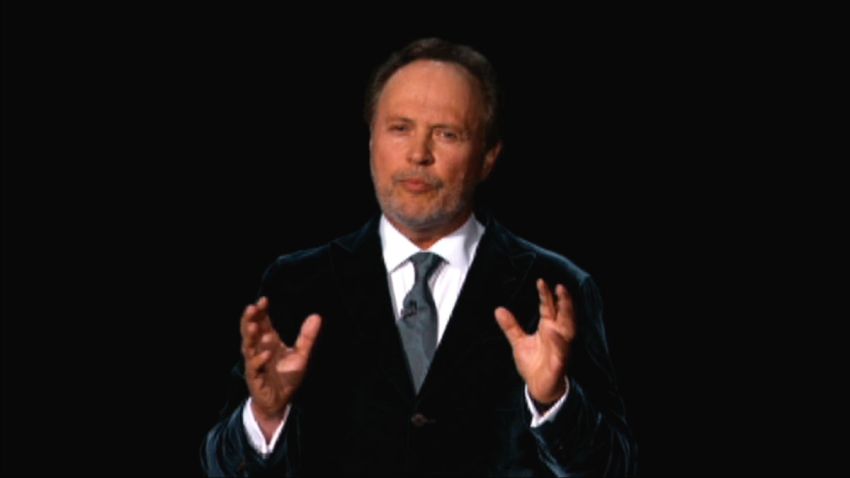 Billy Crystal aptly played the straight man to Robin Williams for one last time at Monday's Emmy Awards, offering a eulogy by turns gently humorous, poignant and poetic as he remembered his pal and sometimes stage partner as "the brightest star in a comedy galaxy."
"He made us laugh – hard," Crystal said, before clips rolled reminding us how Williams could make us laugh until it hurt by using a mere scarf as an on-ramp to a riffing frenzy.
Crystal's understated homage marked a fitting tribute to a hyper-verbal comedic force of nature who left us too soon on August 11 at age 63. The tribute also came in a fitting setting: on television's biggest night. Even if Williams achieved his greatest success in the movies, his career hatched on TV when he burst out of the egg as the eccentric alien Mork three dozen years ago.
Williams' debut on "Happy Days" and subsequent run on "Mork & Mindy" introduced a mass audience to his fast-paced brand of comedy that was dazzling, even a bit subversive, and packed with rapid-fire made-for-TV pop culture references. It also was on TV where Williams' selflessness came through most with the "Comedy Relief" specials he co-hosted with Crystal and Whoopi Goldberg.
While a handful of Williams movies have yet to be released, his television career ended earlier this year with the cancellation of CBS' "The Crazy Ones," a promising show that perhaps would have been given more time to develop in a past, more forgiving media era.
Amid the shocking news of his death two weeks ago, television quickly became the natural, primary place to mourn and celebrate Williams, as talents he influenced like Conan O'Brien, Jimmy Fallon and Seth Meyers offered emotional salutes on their late night shows.
But the tributes packed even more power coming from peers like Crystal and David Letterman, who spoke for Williams fans around the world when he said on "Late Show" last week, "Beyond being a very talented man and a good friend and a gentleman, I am sorry I – like everybody else – had no idea that the man was in pain and that the man was suffering."
Crystal struck a similar personal note Monday night, testifying as a witness to the brilliance of a comedy great who shared his life and joy, if not his pain, with legions of admirers.
"As genius as he was on stage, he was the greatest friend you can imagine – supportive, protective, loving," Crystal said. "It's very hard to talk about him in the past because he was so present in all of our lives."
Williams' star, he said, will shine on: "The glow will be so bright, it will warm your heart, it will make your eyes glisten and you'll think to yourself: 'Robin Williams, what a concept'" – a subtle play on the title of Williams' classic comedy album "Reality…What a Concept."
Crystal, who has played before world audiences as an Oscars host, succeeded in his most solemn and toughest mission – bringing a bittersweet smile to millions with a moving tribute that leaves us with an even greater sense of sadness for Williams' loss and a greater appreciation for the laughter he gave us.
Jere Hester is founding director of the award-winning, multi-media NYCity News Service at the City University of New York Graduate School of Journalism. He is also the author of "Raising a Beatle Baby: How John, Paul, George and Ringo Helped us Come Together as a Family." Follow him on Twitter.
Copyright FREEL - NBC Local Media