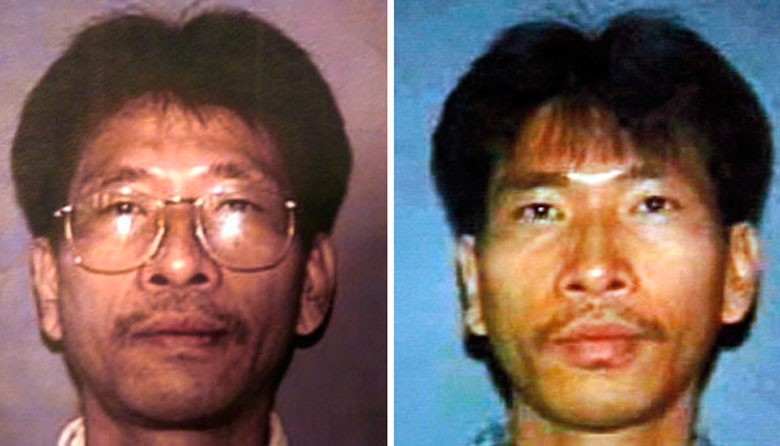 As he lay grievously wounded in a classroom at the American Civic Association, Long Huynh cradled his dead wife and tried to keep his eyes open - to stay awake - telling himself he had to survive for their two children.

Gunshots had shattered his elbow, blown off a finger and slammed into his chest and chin. He bled profusely.

This wasn't the way things were supposed to turn out.
He and his wife, Lan Ho, came to the United States from Vietnam two years ago seeking a better life. They were taking English classes at the civic association Friday when Jiverly Wong, 41, burst into their classroom and opened fire, killing 13 before killing himself.

On Sunday, police defended the 43 minutes it took to enter the building after the first frantic 911 calls from terrified immigrants inside the center. Medical examiners told the district attorney that the injuries were so severe, none of the victims would have survived even if police had entered the building immediately.

Survivors reported huddling for hours in a basement, not knowing whether they were still in danger. Huynh told relatives he remained motionless for more than an hour, fearful the gunman would know he had survived.

"He tried to open his eyes as long as he could because he afraid if he close his eyes, he never wake up again," said his sister, Tina Nguyen.

Another relative, Met Tran, said Huynh threw his arms around his wife in a fruitless effort to shield her from the bullets, yelling "Lay down! Lay down!"

"He tell his wife, 'Let me die so you can live and take care of the kids,"' Nguyen recounted.

The couple have an 11-year-old son and a 9-year-old daughter.
Nguyen said her sister-in-law simply wanted to work.

"She just try so hard to learn English so she could go to work and get a better life here," Nguyen said. "But I guess it doesn't seem like a better place here, you know?"
At a news conference earlier Sunday, police and Broome County District Attorney Gerald F. Mollen defended the actions of officers who waited for a SWAT team to arrive before entering the building.
"We definitively can say nobody was shot after police arrival, and nobody who had been shot could have been saved even if the police had walked in the door within the first minute," Mollen said.

Four Chinese were among those killed, and a Chinese student was also shot in the arm and leg but survived, officials said. The other victims came from Haiti, Pakistan, the Philippines, Iraq, Brazil, Vietnam and the United States.

The first 911 calls came in at 10:30 a.m., police Chief Joseph Zikuski said at a news conference. The callers spoke in broken English, and it took dispatchers 2 minutes to sort out what was happening, he said.

Patrol officers arrived at 10:33 a.m., five minutes before a wounded receptionist called police to report a gunman in the building, Zikuski said. Police had earlier said it was that call that brought them to the immigration center.
When police arrived at the scene, the gunfire had stopped, so they believed there was no "active gunman" in the center and waited for the SWAT team to arrive, Zikuski said.

The SWAT team entered the building at 11:13 a.m., 43 minutes after the first call to police.

"I'm not sure why they wouldn't have gone in there if the shooting was already done," said Kent Moyer, president of California-based World Protection Group, which offers protection services for corporate, commercial, industrial, entertainment, residential and retail clients.

Pressed on why police didn't go into the building, Zikuski said information they were getting from the receptionist _ specifically whether Wong was still alive _ was uncertain enough to warrant caution.

"He was dead. We didn't know it," Zikuski said. "If there's a bunch of cops laying on the floor shot trying to rescue somebody else, it's not going to help anybody. All I can tell you is that we did what was expected and was the right thing to do under the circumstances."

Zikuski said his officers would have gone into the building if shots had still been flying.

Mollen said there would be a full review and report on the shooting, including the police response.

Wong was "an avid gunman" who had recently visited a firing range weekly, Zikuski said, but authorities still don't know his motive. Authorities don't know whether he had a particular target, and Zikuski said the choice of targets may have been random.

Officials have said Wong was apparently upset about losing his job at a vacuum plant and about people picking on him for his limited English.
Copyright AP - Associated Press