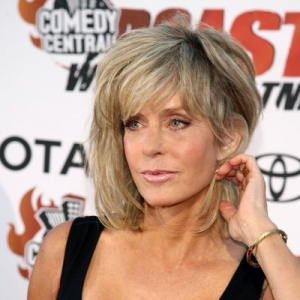 In her first interview since being diagnosed with cancer in September 2006, Farrah Fawcett opened up about her fight for life while living in the public eye.

"It's much easier to go through something and deal with it without being under a microscope," she told the Los Angeles Times in an interview conducted in August 2008, which the newspaper published on Monday. "It was stressful. I was terrified of getting the chemo. It's not pleasant. And the radiation is not pleasant."

VIEW THE PHOTOS: Farrah Fawcett: From 'Angel' To Icon
"It becomes your life," she told the paper last year. "People call, 'How are you?' 'How do you feel?' 'We're praying for you.' 'Do you still have your hair?' 'What do you feel like?' When every single call is that kind of call… it's all you talk about. It's all-consuming. Then, your quality of life is never the same."

The August interview is being published in anticipation of the documentary, "Farrah's Story," which captures her battle with cancer, set to air on NBC May 15.

VIEW THE PHOTOS: Farrah Fawcett & Ryan O'Neal: A Love Story
The Hollywood icon slammed a 2006 National Enquirer headline that read, "Farrah Begs: 'Let Me Die,'" saying, "God, I would never say something like that. To think that people who did look up to me and felt positive because I was going through it too and yet I was strong… it just negated all that."

Fawcett also spoke out about the UCLA Medical Center, which the actress said she believes someone on staff leaked information from her medical records.

"I actually kept saying for months and months and months, 'This is coming from [UCLA]," Fawcett said. "I was never more sure of anything in my life."

VIEW THE PHOTOS: Farrah Fawcett TV & Filmography
When her cancer returned in 2007, the actress said she intentionally withheld the news from all of her friends and family, in hopes of finding out if someone from the hospital was leaking information.

"I set it up with the doctor," she explained. "I said, 'OK, you know and I know.' I knew that if it came out, it was coming from UCLA."

Within days, news of the return of her cancer hit the National Enquirer.

"I couldn't believe how fast it came out," Fawcett said. "Maybe four days."

The hospital launched an investigation and discovered an employee had accessed the actress's records more often than Fawcett's doctor had.

Coincidentally, Lawanda Jackson, 50, the UCLA employee who was charged with selling Farrah's, Britney Spears', and other celebrities' medical records, died last Friday from breast cancer. She was due to be sentenced today.

UCLA told the paper it has since changed how patients' records can be accessed and has implemented better security.

"UCLA Health System considers patient confidentiality a critical part of our mission of teaching, research and patient care," the hospital said in a statement released to the paper.

The U.S. Attorney's Office currently has an ongoing investigation into the issue at the UCLA Medical Center.

As previously reported on AccessHollywood.com, Fawcett's condition has severely deteriorated over the last few weeks and the actress' 91-year-old father has flown in from Texas to be at her bedside.

"She stays in bed now," longtime love Ryan O'Neal told People on May 4. "I rubbed her back this morning. When I got up to go, she whispered, 'Don't stop.' She's down to few words."

Farrah has now lost her famous mane of hair, Ryan confirmed.

Ryan told People Farrah has not had last rites yet. And Access has learned that Farrah is waiting for a "miracle" treatment as doctors from Germany are flying to Los Angeles in the next few days.

It's "a last gasp," Ryan told People.
Related Content from AccessHollywood.com:
PLAY IT NOW: Ryan O'Neal To Farrah Fawcett: 'I'll Go With You' (May 8, 2009)
PLAY IT NOW: Access Archives: Farrah Fawcett On The Record (1997)

MORE ACCESS ON THESE TOPICS: Farrah Fawcett - Ryan O'Neal - Health Scares - Hospitalizations - Britney Spears

Copyright NBCAH - Access Hollywood