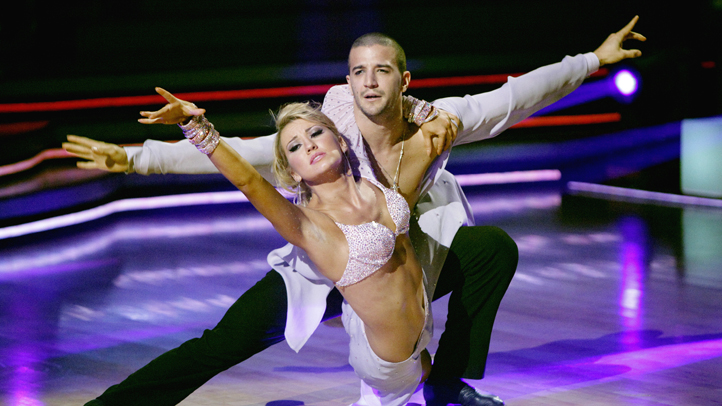 It was a rip-roaring ride full of pyrotechnics, freestyle lifts, sequins, mambo pants, tiny tops and shirtless men on "Dancing with the Stars," but although the finalists from Season 12 pulled out every trick in the book, it might still be anyone's game.
Pittsburgh Steelers wide receiver Hines Ward and his partner, Kym Johnson, and Disney star Chelsea Kane and her "Dancing" hunk, Mark Ballas, spent two rounds matching each other point for point, both ending the night with 59 out of a total 60 points, but it was Kirstie Alley and Maksim Chmerkovskiy who may have tugged at America's heart strings just enough to sneak in and steal the mirrorball.
VIEW THE PHOTOS: They Came, They Danced, They Conquered: 'Dancing's' Mirrorball Winners
The 60-year-old actress and her 31-year old professional partner squeaked through the first round in a standard fashion, shaking their hips to a fine 27 points for their salsa, but it was their freestyle that made its mark.
Kirstie had promised aerials on last week's show, and in their pre-dance package, Maks said he'd be true to her words.
VIEW THE PHOTOS: 'Dancing's' Marvelous Maksim Chmerkovskiy
"Whether I like to or not, I'm doing lifts in the freestyle because they're expected," he said, adding that they had to because, "age does not exist in this competition."
When the pair hit the ballroom, Kirstie was in a brown, almost sack-like dress, with little embellishment and certainly not form-fitting like her first round outfit – a thigh skimming, tummy hugging orange sparkling number.
A few bars in — to Pink's "Missundaztood" — Kirstie ripped off the cumbersome outfit to reveal what was underneath – a sassy, body-hugging corseted-style top and skin-tight black pants.
VIEW THE PHOTOS: 'Dancing With The Stars' Season 12 Cast: Then & Now
Full of life, energy and Kirstie's personality, the pair then shook themselves across the dance floor – at times, Maks throwing Kirstie on to his shoulders, at others, the two matching each other step for step in a Latin ballroom style.
"Way to finish the night my friend," a moved show co-host Tom Bergeron said, and the judges couldn't help but agree.
VIEW THE PHOTOS: Getting Better With Age: Stars Over 50!
"Ten weeks ago, I would never even thought of you even attempting lifts and things you've done tonight, and you have to really appreciate what you've achieved," a proud Bruno Tonioli said as the pair earned 27 points, bringing their total to 54 out of 60. "Respect, girl. Respect."
AH Nation Poll: After watching the final, who deserves to win? Click HERE to vote!
Maks had told Access Hollywood Live's Billy Bush and Kit Hoover last week that the pair's freestyle would show Kirstie's "transformation" over the season, and Carrie Ann Inaba seemed to recognize that idea, commenting, "That dance sort of embodies what I think you've become — the new poster child for how life should be lived at 60 years old: free, loving, buoyant, crazy, wacky unpredictable and all of the above and then some."
Although Kirstie's journey tugged at the emotions, as far as competition went, things couldn't get more heated than the battle between Hines and Chelsea, which saw both of the celebrities and their partners end the show in a tie.
Chelsea and Mark came out first, opening the finals with a samba, a number chosen for them by the judges.
"Hot! Hot! Hot," Carrie Ann said of the dance, which saw Chelsea in a midriff-baring outfit and Mark in an open, ab-baring shirt. "Chelsea is on fire. You got down, you got dirty, you got sensual and it worked."
The paired earned 29 out of 30 points, the same score picked up by Hines and Kym for their judges' choice dance – a quickstep, an updated version of the one they performed earlier in the season.
Kym rehearsed in a neck brace, the result of the injury she sustained in rehearsal two weeks ago, but on the dance floor, she looked sharp and effervescent alongside her football partner.
"That was so much fun!" Carrie Ann raved.
For Chelsea and Mark's second number, they performed a hip-hop inspired freestyle, with some Latin twists.
Bruno called it "wonderful," and Len Goodman added that it was "fantastic" as the pair earned a full 30 points, bringing their total to 59 out of 60.
A short while later, Hines and Kym again brought their passion for performing to the ballroom with a freestyle inspired by the halftime shows Hines' never gets to see in his career as a football player typically stuck in the locker room during that time.
Complete with live drummers, the two exploded with an eye-popping routine, which saw Hines dressed as a drum major and Kym dressed somewhere between a drill team dancer and a cheerleader.
"That was risky," Carrie Ann said, trying to keep a straight face. "That wasn't really a half time show, that was a whole Super Bowl. I thought it was fantastic!"
"Dancing with the Stars" will crown its Season 12 winner on Tuesday night on ABC.
Copyright 2011 by NBC Universal, Inc. All rights reserved.
This material may not be published, broadcast, rewritten or redistributed.
Related Content from AccessHollywood.com:
PLAY IT NOW: Kirstie Alley On Making The 'Dancing' Finals: 'I'm Numb'
PLAY IT NOW: Will Chelsea Kane & Mark Ballas Advance To The 'Dancing' Finals?
More from Access: [ Dancing With the Stars Kirstie Alley ABC ]
Copyright NBCAH - Access Hollywood