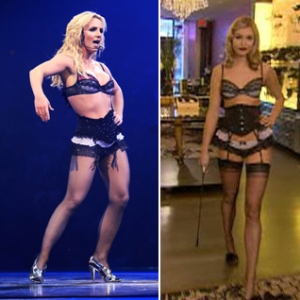 Britney Spears gets sexy in her Circus tour with lingerie looks straight from the upscale — and racy! — boutique, Agent Provocateur. Yes, you can get the X-rated ensembles Brit wears on stage, but we recommend leaving them to the bedroom!
"When I crack that whip…" so are the words from the singer's hit tune, "Circus." The leather whip Britney brandishes, with a Swarovski diamante encrusted handle, is available for $225!
VIEW THE PHOTOS: See Hot Shots Of Britney's 'Circus' Tour Opening Night
One of Brit's sexiest looks is the store's Cendrillon Playsuit ($390), made of black French lace (and not much of it)! According to store representative Scarlet, "It's a one piece halter style playsuit… It's got more of an edge to it then a lot of our traditional pieces. The halter style leaves your chest completely open." Britney, believe it or not, went for a more demure version of the lingerie… modifying it with a nude jewel encrusted body suit. Topping it all off, strategically placed pasties with tantalizing tassles. "The pasties are sequined and backed with leather which makes them really luxurious against the skin and the tassles accentuate every move." The pasties are available for $65.
Britney also bares her body with a matching bra and briefs set from the store's classic and flirty Fifi collection. Scarlet says "It's a beautiful sheer tulle pleated chiffon with Chantilly lace overlay." The lightly padded plunge bra is available for $170 and Scarlet says, "every day I fit women in the dressing room I always give them a Fifi bra because it looks amazing on everybody." The frilly briefs are $120. Britney added her own touch to the undergarments with a waist cincher. A similar style, the French lace Sophie, is available for $330.
VIEW THE PHOTOS: Britney's 'Circus' Concept Art
For more on Britney's barely there concert couture go to www.agentprovocateur.com and tune in to Access Hollywood tonight!
Related Content from AccessHollywood.com:
VIEW THE PHOTOS: Britney Spears
PLAY IT NOW: Britney Spears' Sweet Surprise! (March 2, 2009)
PLAY IT NOW: Britney Spears Lights Up Los Angeles

MORE ACCESS ON THESE TOPICS: Britney Spears - Glam Slam - Style - Music

Copyright NBCAH - Access Hollywood