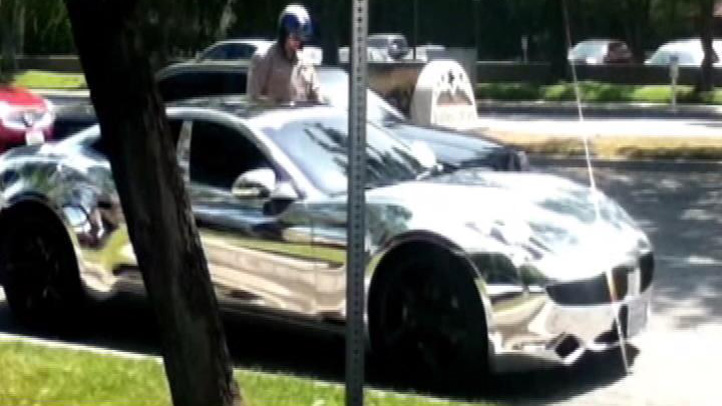 Does Justin Bieber just have the worst luck when it comes to paparazzi? (Well, not counting Lindsay Lohan, Britney Spears, Paris Hilton, et al.)
The Los Angeles City Attorney's Office is now reviewing the singer's July 6 run-in with the California Highway Patrol that resulted in him being cited for speeding, E! News confirmed Tuesday.
But, guess what? This isn't bad news for Bieber!
MORE: Celebrities vs. Paparazzi Smackdowns--the Five Greatest Hits (Not Counting Alec Baldwin)
The CHP's investigation ended with a recommendation that prosecutors file charges against the paparazzo whom Bieber has accused of pursuing him on L.A.'s 101 freeway.
After officers pulled him over, "Justin was given instructions that if he was being harassed again [by paparazzi] to call the CHP," Officer Saul Gomez of the Southern Division of the California Highway Patrol Officer told E! News following the incident.
READ: So True? So False? Could You Really Combust From Wearing a Justin Bieber Shirt?!
"Approximately 30 minutes later," Gomez continued, "the CHP received a call from Justin who reported that he was being harassed on the freeway. Nothing happened as a result of this. Justin got to where he was headed and it stopped there. The officers that pulled Justin over are looking into the paparazzi that were following Justin the first and second time."
If convicted of a misdemeanor crime in the case, the as-yet unidentified photographer could face a maximum six-month jail sentence.
Los Angeles City Councilman Dennis Zine, a witness to the apparently joyless ride, remarked at the time that Bieber seemed to be approaching triple digits in the speed department.
--Reporting by Baker Machado and Holly Passalaqua
Copyright E! Online