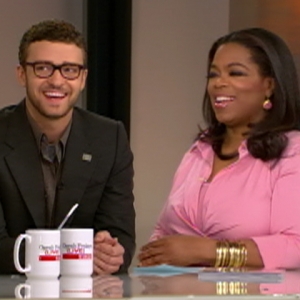 Justin Timberlake arrived on "The Oprah Winfrey Show" on Friday morning to show off his clothing line, William Rast – but first, the star had to answer some questions about his relationship with actress Jessica Biel.
"I'm not engaged," he told Oprah. "If she's engaged, we have a problem."
VIEW THE PHOTOS: Hollywood's Hottest Couples!
The quick-witted singer also joked that his "Saturday Night Live" appearance as a backup dancer for Beyonce in November 2008 was the most romantic thing he'd done for his girlfriend lately.
"I'd say pantyhose and a leotard is up there," he said.
VIEW THE PHOTOS: Justin Timberlake: From The Stage To The Red Carpet!
Justin, who told "Oprah" he has an open invitation to "SNL," followed up his "Single Ladies" dance recently, appearing on the sketch comedy show with Jessica. The two took on the role of cartoon characters on "Weekend Update."
As for Jessica's own outfits, he said she's a big fan of his clothing line.
"Oh yeah, I can't get it off of her," he said. "Wait, that came out wrong."
"She's obviously a huge muse for me," he added on a more serious note. "And with the designers, too."
Related Content from AccessHollywood.com:
PLAY IT NOW: Justin Timberlake Jokes With 'Oprah'
PLAY IT NOW: First Look: Justin Timberlake's 'The Phone'

MORE ACCESS ON THESE TOPICS: Justin Timberlake - Jessica Biel - Oprah Winfrey - Saturday Night Live - Couples

Copyright NBCAH - Access Hollywood