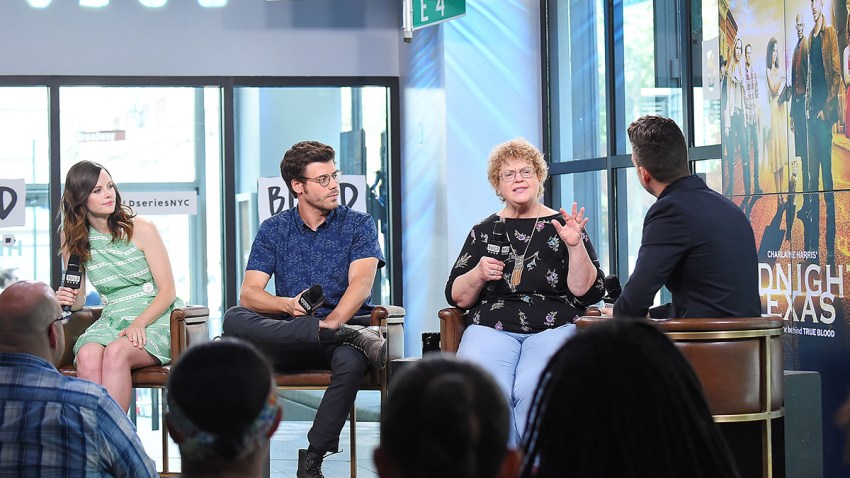 In "Midnight, Texas" being normal makes you an outsider.
NBC's upcoming thriller series centers around the rural town where supernatural beings can shield themselves from the outside world and reveal their true colors. The show is based on the best-selling book series by Charlaine Harris, the author who inspired the "True Blood" series.
Manfred Bernardo (Francois Arnaud), a charming psychic whose ability to communicate with spirits has landed him in trouble, arrives in Midnight after his ghost grandmother tells him the town will be safe for him. Manfred quickly gets pulled into the town's affairs and meets writer Creek Lovell (Sarah Ramos), whom he takes an interest in right away.
"I really liked exploring a lead character who isn't flawless, who is damaged, not inherently bad … but has selfish ways," Arnaud said.
While Manfred possesses supernatural abilities, his love interest, Creek, enjoys writing and dreams of leaving Midnight to find stories.
"Creek is kind of a small town girl but with an edge … her small town is filled with monsters," Ramos said. "She has come to feel at home with these people with supernatural powers … they become more of her family than even her immediate family."
For Ramos, her performance in "Midnight, Texas" signals a dramatic departure from her usual roles.
"I haven't been on a show like this before," said Ramos, who played Haddie Braverman on NBC's "Parenthood." "It was just really exciting to be branching out, and … fun to play an adult."
Manfred and Creek may live in a world where supernatural powers exist, but Arnaud and Ramos find ways to relate to their characters. Despite his character's ability to communicate with spirits, Arnaud says that Manfred's personality is similar to his own.
"In his disposition, he's not that far off from me," Arnaud said. "It's very hard and also very satisfactory to tap into something that's closer to you … you can't really hide so much behind the character."
"I relate to [Creek's] journey," Ramos said. "She really has to transition from being a young adult … to being a fully-formed individual."
"Midnight, Texas" draws from author Charlaine Harris' book series, but its format as a television program allows the characters and the setting of the town to come to life. The actors praised Harris, whose creativity sparked the series.
"[Harris] has this ability to make really weird, unique stories feel really compelling and relatable," Ramos said. "This show literally has an angel, a witch, a psychic, an assassin, an energy-leaching vampire, and a were-tiger."
"Tonally there's something different [about Midnight] because it's incredibly scary," Arnaud said. "But it stays funny, it takes itself seriously … it deconstructs the codes of all the genres it borrows from. There's a self-awareness to the show that is a new take on the supernatural."
As members of the town fend off the intrusion of the local police department and the dangers of a biker gang, the supernatural beings ban together as allies to protect their town.
"It's just a thrill ride," Arnaud added.
Catch the premiere of "Midnight, Texas" on Monday, July 24 at 10 p.m. EDT.