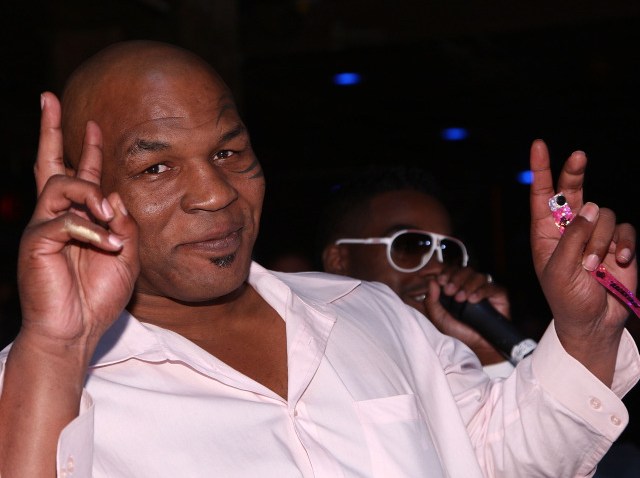 Mike Tyson says he did "The Hangover" to fund a drug habit, but has since gotten his life together, losing 130 pounds on a vegan diet and reconnecting with his wife and family, he told a Las Vegas radio station.
As for going back into the ring: "I'd be petrified," he said.
The 44-year-old former heavyweight champion gave the uncommonly candid interview with ESPN Radio in Las Vegas Monday, touching on the tragedy, debauchery and redemption that have touched his life in recent years. The often-troubled legend lost his four-year-old daughter in May, 2009, in a freak accident involving a treadmill, and he said the horrific event sent him on yet another downward spiral.
"I felt like I was dying. I had an incident in life where I lost my four year old daughter in a tragic accident at home," he said. "I don't know. I didn't want to live anymore. So I said, that in order to go there, I had to change my life. I am going to change everything I dislike about myself. I changed everything that I was as a human being. I started that journey in October or November."
Since then, he's lost 130 pounds to drop all the way from 350 to his old fighting weight. He said he's stopped smoking. partying and cheating on his wife, and now is in position to capitalize on the unexpected career boost he got from his lauded cameo in last year's surprise hit.
"I was doing that to supply my drug habit," Tyson said of playing himself in the comedy. "I said, 'Wow, This is going to be really good. We're going to sell this stuff on 42nd Street on bootleg and make a lot of money.' This is my best thinking on drugs... It wasn't that way. It was an international success."
While the movie was selling out theaters, Tyson was a mess. He said it was his wife who got him on the straight and narrow, telling him she wanted a commitment.
I was like, 'A commitment? What do you mean?' And she said, 'I want to do this. I want to establish ourselves as husband and wife.' I said, 'We'll do that one day. One day we'll do that.' Then one day, I said, 'Let's just do it. Don't wait to next week. Let's do it right now.' And I took a responsibility.
"I'm an extremist which is bad and good," he continued. "Once I partake in something, I'm going all the way. I'm not going to cheat on you no more. I'm not going to drugs no more that could cause us to break-up… When I am dedicated to something, it gets too overbearing. When I'm dedicated to destroying my life, no one can stop me. When I'm dedicated to doing the right thing, no one can stop me. That's the sickness that I have."
That single-mindedness once made him the most feared boxer in the world. But he has no plans to return to the sweet science.
"I wouldn't consider nothing to do with boxing," he said. "I couldn't do that no more. I'd be petrified now. That's not who I am anymore."