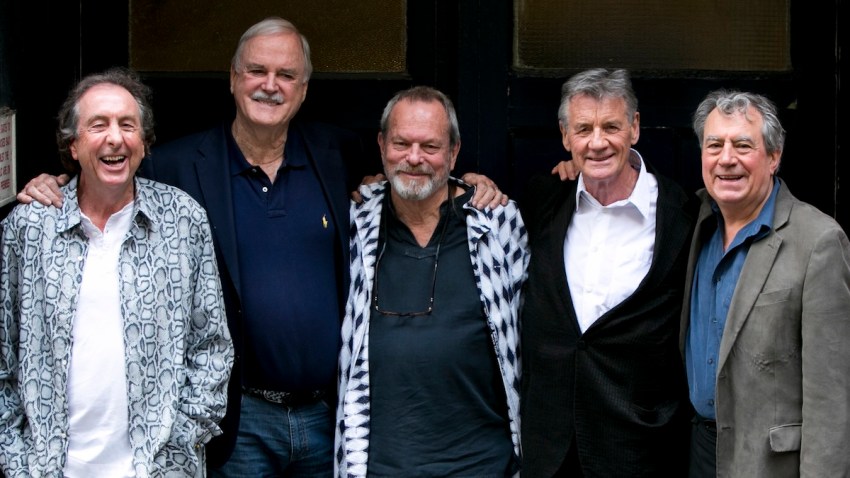 Some 40 years ago, comedy got something completely different from both ends of the Atlantic, turning 1975 into a landmark year for laughter.
On TV, "Saturday Night Live," upended after-hours television with edgy, topical satire. Meanwhile, the Monty Python troupe, whose recently ended U.K. TV show was starting to build a latent U.S. audience via PBS, catapulted into theaters all over with "Monty Python and the Holy Grail."
The 40th anniversary of "SNL" has generated much hoopla. Now it's Python's turn to celebrate a comedy legend that looms as large as the Arthurian lore they spoofed.
The surviving Pythons are set to take an in-person victory lap around the Round Table Friday during a "Holy Grail" showing before an audience of nearly 3,000 at New York's Beacon Theatre as part of the Tribeca Film Festival. The excitement over the return to Spamalot 40 years later suggests that, like a dead parrot, Monty Python's comedy never gets old.
"Holy Grail," while not an instant hit, served as slow-drying cement in securing the Pythons' place as the kings of silly, surreal and smart comedy. Movie audiences had never seen anything like it before: A fluffy, flying killer rabbit ("Run away!"). A knight determined to fight on, even after losing limb after limb with fire-hose-like gushes of blood ("Tis but a scratch!"). Shrubbery-obsessed knights dependent on a nonsense word ("Ni!").
The film echoed the spirit of the troupe's 1969-1974 TV show, which exerted a major influence on many funny folks – including "SNL" creator Lorne Michael (who, incidentally, met Chevy Chase on line for a "Holy Grail" showing and hired him soon after). The movie's loose, episodic storytelling style packed an influence of its own, with a twisted DNA strain that flows through the likes of Ben Stiller's "Zoolander" and Will Ferrell's "Anchorman" flicks, among others.
The "Holy Grail," perhaps more than the TV show, led to a devoted U.S. following for Graham Chapman, John Cleese, Terry Gilliam, Eric Idle, Terry Jones and Michael Palin – spurring more movies ("Life of Brian" and "The Meaning of Life") as well as albums and live tours.
The crew, minus Chapman, who died in 1989, returned to the stage for the first time in more than three decades last July, for a series of performances at London's O2 Arena that they swear will be their last gasp. A documentary about the ostensible final hurrah – "Monty Python: The Meaning of Live" – is set to premiere at the film festival.
The "Monty Python Live (mostly): One Down, Five to Go" stage show, for those of us on these shores lucky enough to catch the movie house simulcast of the final performance, reinforced the durability of the material – and its creators. The septuagenarian Pythons showed they are now more suited to play the pompous authority figures they first lampooned back in 1969 – and they pulled it off without losing a shred of their irreverence (check out this inspired bit with Stephen Hawking).
They're not in any kind of shape to do silly walks. But they've earned their ride into history – not atop horses like King Arthur and his men, but via the clopping of coconuts that, in 1975, heralded a new kind of movie comedy built around the ancient quest for laughter.
ere Hester is founding director of the award-winning, multimedia NYCity News Service at the City University of New York Graduate School of Journalism. He is also the author of "Raising a Beatle Baby: How John, Paul, George and Ringo Helped us Come Together as a Family." Follow him on Twitter.
Copyright FREEL - NBC Local Media