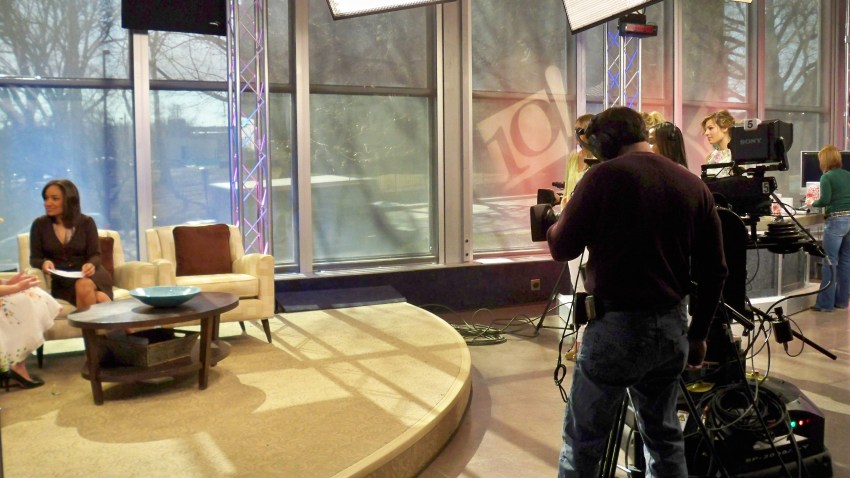 Blind auditions wrapped up on a decisive note Tuesday on "The Voice," as coaches checked their ambivalence at the door in their bold efforts to fill the coveted last spots on their teams — though they didn't necessarily fill them with the kinds of artists you'd expect.
Blake picked up the night's first success story, Kansas-bred classical guitarist turned singer (and crossfit nut) Kaleigh Glanton, 20, whose haunting take on the Creedence Clearwater Revival standby "Have You Ever Seen the Rain" gradually earned a four-chair turn. Shakira praised her quirkiness, but Blake won her over by promising her the spotlight he insisted she needed.
And with that, Team Blake was full.
That meant that just Usher and Shakira would battle for the next contestant, nursing student Brittnee Camelle, 23, from Lawrenceville, Ga. Brittnee's smoky take on Demi Lovato's "Skyscraper," growing in confidence as it progressed, won over first Usher and then — at the very end, just as Usher himself would normally be buzzing in — Shakira, too.
Each hoping to clinch the last spot on their teams, the ttwo returning sophomore coaches sparred bitterly over Brittnee, who said she wanted to inspire other women with her music. "I'm supportive of that," Usher said. "You're supportive of that, but I understand that," Shakira noted. Brittnee picked Usher after hesitating, though, citing their shared Atlanta roots.
Shakira finally rounded out her team with a performer who'd have been a shoe-in for Team Blake has it not already been full: Lindsay Bruce, a SoCal-raised blonde country singer with a unique voice. Adam, eager as ever to nab a country singer for his team, put up a good fight for her, even reaching for a personal knock against his rival coach. But with the backing of both Blake and Usher, Shakira won her talents in the end. (Adam decried the meddling as an unfair three-against-one contest.)
That left Adam — who'd chosen his team members carefully throughout blind auditions, ever since he nabbed the season's first four-chair turner, Christina Grimmie — the only coach yet to complete his team. He found its missing piece in teen soul singer and doughnut shop worker Caleb Elder, whose funky take on King Floyd's "Groove Me" won Adam over within just a few notes. Caleb didn't get to choose a coach, since just one still had the chance to turn their chair, but no matter: He'd earned a spot on the reigning "Voice" winner's team, and Adam vowed Caleb would prove a "wild card" on it.
Now that all the "Voice" coaches have filled out their teams, it's on to the battle rounds next week. And given the unlikely coaches some of Tuesday night's singers wound up with, it could be a game of musical teams once steals get underway.
"The Voice" airs Mondays and Tuesdays at 8/7c.