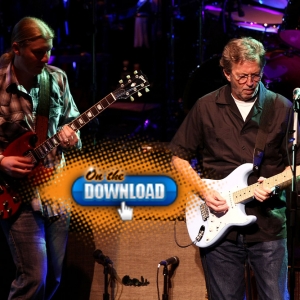 It was 40 years ago, March 26, 1969, that Greg and Duane Allman formed the Allman Brothers Band… and last night I witnessed musical history.
I know what you're thinking… Oh, that hippie jam band.' That's what I thought too. But seeing them live at the Beacon Theater in New York City, I was pleasantly surprised. It's no wonder they were declared by Rolling Stone magazine, as "the best damn rock and roll band," these guys are so musically magical.

VIEW THE PHOTOS: Week's Best Star Sightings, March 21 - 27
The Mecca in March for Allman fans is The Beacon Theater. A three week run of the southern rock, jam band at the historic theater (which has recently been restored to all its golden beauty). Now, every year my husband tries to encourage me to go with him, to experience this, but I pass. This year the invite came again, and I obliged for two reasons.
1) A date night with my husband, and
2) A chance to experience something out of my usual musical tastes.
VIEW THE PHOTOS: On The Download
This particular "Run" at the Beacon, as it is deemed by uber-fans, was the 40th anniversary celebration of this iconic band. Each night special guest have appeared with the band to pay tribute. Every one from Bruce Willis, playing harmonica, to Sheryl Crow, Susan Tedeshi, and the ultimate… Eric Clapton!
Last night there was no guest, but a tribute to Duane, who died in 1971, was projected on a giant screen above the current members of the band. It said, "dedicated to the man who started it all." There were also family and friends of the band, seated on the stage to the left and right. Even little Sophie Trucks, Derek's daughter, was watching dad tonight. Speaking of Derek, this phenom guitar player is like no other. At just 29 he is an amazing guitar player. I think he was born in the wrong decade… he has got the blues!

So how was my first experience at the ABB show? Yes, there were long jams. I think "In Memory of Elizabeth Reed" was close to 50 minutes! But for Allman fans, that's what they expect and that's what they deserve for being long time Peach heads. All in all, it was a good show and it was nice to see people coming together with one common idea — To listen to good music, have good fun and forget about stimulus packages, and economic downturns.
VIEW THE PHOTOS: On The Download: Jon McLaughlin
It was a historic night, and I think, even though there were no special bells and whistles for the 40th, the fans got what they wanted and the band was happy to play. Greg even let his hair down and out of his signature ponytail!
Related Content from AccessHollywood.com:
PLAY IT NOW: On The Download: Bria Valente 'Everyday'
PLAY IT NOW: On The Download: Dierks Bentley - 'Feel That Fire'

MORE ACCESS ON THESE TOPICS: On The Download - Bruce Willis - Rock - Music

Copyright NBCAH - Access Hollywood