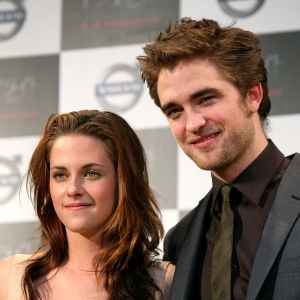 Your Daily Dispatch of Celebrity Shenanigans

Whitney Port Not Feeling The "Twilight" Fever: Millions of people are swept up in the "Twilight" frenzy, but not "Hills" alum and current star of "The City," Whitney Port. "I haven't read the books, but I saw the movie," she told MTV news. "I thought the movie was really bad. I love whatever his name is … Robert [Pattinson]. I think he's so good-looking and handsome. I haven't met him." Adding, "I just didn't think the acting was so good." Unlike the acting on her show, of course.

VIEW THE PHOTOS: 'American Idol' Season 8 Contenders & Their Celebrity Look-A-Likes
"Iron Man 2" Style Sneak Peek: If you've been wondering what sort of hairstyle a good villain needs when taking on Iron Man, wonder no more! According to Gatecrasher, Mickey Rourke spent "endless hours" at the Valery Joseph Salon in NYC getting his new "Iron Man 2" 'do, which is "jet black with platinum gray streaks." Villain fierce indeed!

"Trek" Team To Boldly Go Again!: The "Star Trek" reboot has not even blasted its way into theaters yet, but the creative team is already on board the U.S.S. Enterprise for another adventure. According to Variety, J.J. Abrams produce the sequel, which will be written by "Lost" co-creator Damon Lindelof and "Fringe" scribes Alex Kurtzman and Roberto Orci. Cue Trekkie nerd cheer! That means you, MovieMantz!

VIEW THE PHOTOS: 'Twilight' Stars' Off Screen Hook Up
Odds Stacked Against Some Idols: And in news of someone's journey coming to an end, according to prominent online casino, Sportbook.com – as reported by RadarOnline, Megan Joy's and Scott MacIntyre's days on "American Idol" are numbered. Megan's chances of winning are listed at 75-to-1 to win the competition. Scott has a 50-to-1 chance of nabbing the title. I guess we know what tomorrow night's bottom two will likely look like. And all this before the we've even seen the performances! If it's Megan that goes – as predicted – we'll miss her quirky dancing!
Related Content from AccessHollywood.com:
VIEW THE PHOTOS: Scenes From 'Star Trek'
PLAY IT NOW: First Look: Robert Pattinson As Salvador Dali In 'Little Ashes'
PLAY IT NOW: 2009 FOX TCA Party: J.J. Abrams Talks 'Fringe' & 'Star Trek'

MORE ACCESS ON THESE TOPICS: Twilight - Style - Whitney Port - Iron Man - Star Trek

Copyright NBCAH - Access Hollywood