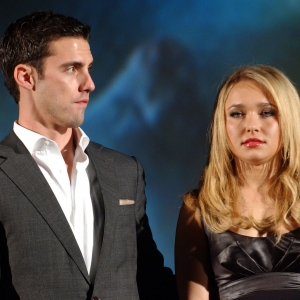 Your Daily Dispatch of Celebrity Shenanigans

Hayden & Milo Still Chummy: Despite their split, "Heroes" stars Hayden Panettiere and Milo Ventimiglia are keeping it professional when it comes to work, according to the actress. "Milo and I are very close," the 19-year-old told OK! Magazine. "We have enjoyed and continue to enjoy working together." As for her incident in Hawaii, where she allegedly lashed out at reporters on the red carpet, Hayden said it was just a matter of getting startled. "While in Hawaii, one reporter grabbed me suddenly from behind and frightened me. It happens. Typically, the press has treated me with great respect," she added.

VIEW THE PHOTOS: The Latest Star Sightings
"Housewives" Fake Fight?: In news of the quarrelling kind, was the spat between "Real Housewives of New York City" star Kelly Killoren Bensimon and boyfriend Nicholas Stefanov staged? According to a New Daily News Gatecrasher source, the fight that got Bensimon arrested and charged with a third-degree assault charge might have been fake. "Some people on the show suspect that Kelly orchestrated the entire situation to better her chances of being asked back next season," the source claimed at the launch of co-star Bethenny Frankel's diet book, "Naturally Thin," Wednesday night. We love a good staged reality show fight, but shouldn't the cameras have been rolling and shouldn't the "Housewives" leave such things to "The Hills" girls?

Chuck Norris Breaks Bob Barker's Ribs!: Keeping the fight news going, Bob Barker says in his new book, "Priceless Memories," that he took a licking from Chuck Norris during his younger days while learning karate from the action star, The New York Post's Page Six reported. ""The doctor said, 'You have two cracked ribs here and another two here,'" If only there had been reality shows back then!

VIEW THE PHOTOS: Keepin' It Real With TV's Hottest Reality Stars!
Comedy Goes To The Kids: And finally, in total non-fighting news, we love to see comedy stars mixing it up with people like Muno, Foofa, Brobee, Toodee, Plex and Elmo! No, they aren't' the latest French DJ star imports or Italian designers, but plush costumed children's show characters! See Jack Black's funny "Dancey Dance Time" segment on Nickelodeon's "Yo Gabba Gabba!," HERE! And check out Ricky Gervais when he stopped by Sesame Street and got into some not-so-kid-friendly banter with Elmo, HERE! You'll probably feel happier that you did!
Related Content from AccessHollywood.com:
VIEW THE PHOTOS: Hayden Panettiere
PLAY IT NOW: ACCESS EXCLUSIVE FIRST LOOK: Jennifer Aniston In 'Management'
PLAY IT NOW: Young Hollywood In Love

MORE ACCESS ON THESE TOPICS: TV - Roll Call - Red Carpet - The Hills - News

Copyright NBCAH - Access Hollywood