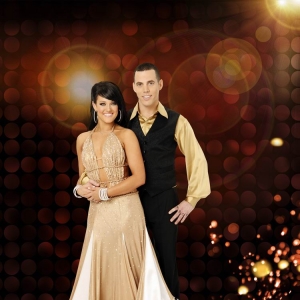 Steve-O was forced to bail out of performing on "Dancing With the Stars" after suffering a back injury during dress rehearsal on Monday night.
The former "Jackass" star landed on his microphone pack, injuring his back two hours before the show's live broadcast on ABC, host Tom Bergeron told the audience. The star was taken to the hospital and is expected to return to the show next week, if he survives elimination on Tuesday.
VIEW THE PHOTOS: 'Dancing With The Stars' Week One! Just The Beginning…
Despite Steve-O's absence from "DWTS," he was still judged on his salsa routine, recorded during the fateful dress rehearsal with professional Lacey Schwimmer. And without a crowd to cheer them on, the judges said their dance, which they watched a video of, lacked excitement.
"I feel terribly sorry for Steve because as much as you try in the dress rehearsal, you don't have the adrenaline you have when you come out in a live show," Len Goodman said as the couple received just 14 out of 30 points. "I wasn't enjoying it."
VIEW THE PHOTOS: 'Dancing With The Stars': The Portrait Shots!
But there were a handful of performances Len did enjoy including Gilles Marini's quickstep with Cheryl Burke.
The "Sex and The City" star once again took home top marks for his smooth footwork and dramatic flair.
"After last week's cha cha, I had a feeling you might be a one-week wonder. Not so," Len enthused. "This was great! Well done."
VIEW THE PHOTOS: Keepin' It Real With TV's Hottest Reality Stars!
And Carrie Ann Inaba was also won over as the duo took home the highest score of the night – 27 out of 30.
"You guys are quickly becoming the fan favorite," Carrie Ann said. "You are making the ladies swoon. Good job."
Melissa Rycroft, a last minute replacement for Access Hollywood's own Nancy O'Dell, who was sidelined with a knee injury, put in a performance with partner Tony Dovolani, that proved they are major contenders.
Their salsa netted the second highest score of the night – a 26 out of 30.
"Finally a real salsa! Tony, way to go," Carrie Ann raved. "You had it all. That was slammin'"
"I was gyrating on the seat," Len added. "I was thinking, 'Go on girl!' 'Go on you beauty!' It was the salsa of the night."
Olympian Shawn Johnson too captured high marks for her salsa with partner Mark Ballas. The 17-year-old contender broke from the rigidity of her gymnastics background, to put in moves the judges enjoyed.
"I thought it was fantastic," Carrie Ann announced as the two took home 24 out of 30.
On Tuesday though, one couple will be sent home, the result of a combination of factors – the lowest amount of votes, plus the judges scores from this week and last.
Related Content from AccessHollywood.com:
PLAY IT NOW: Access Investigates: 'Dancing' Injuries
PLAY IT NOW: Dish Of Salt: Steve Wozniak's Dancing Rehearsal

MORE ACCESS ON THESE TOPICS: Dancing With the Stars - Reality TV - Celebrities

Copyright NBCAH - Access Hollywood